Long Time Sony Wedding Photographer Tries Fujifilm X-T3, Falls in Love, and Sells All his Sony Gear – Here is Why!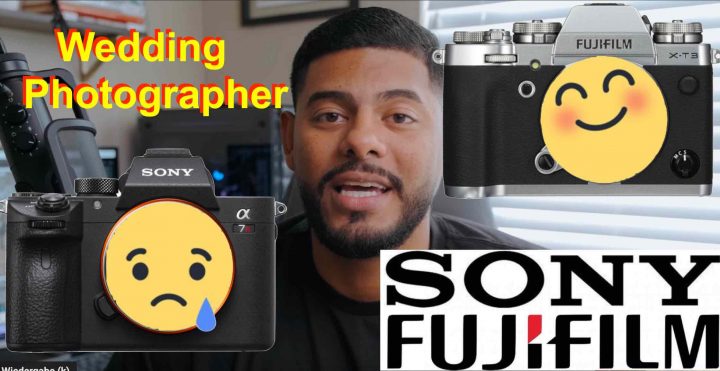 Leaving Sony for Fujifilm
Wedding photographer Javi Reyes left Sony for Fujifilm. In his case, he switched from Sony A7III to Fujifilm X-T3.
In a 23 minutes video he explains his switch. Here is why:
he is still pretty shocked that he sold all of his Sony gear
he basically only owned Sony since he started photography
he was loyal to Sony, and over time got 7 different Sony cameras
he started to get more interested in video. But he needed a hybrid camera
at some point he wanted 4K/60 and 10bit
he looked at the GH5. But autofocus was not good, that was the deal breaker
he took a look into Fujifilm X-T3
X-T3 shoots 4K/60, 10bit, F Log, lots of frame rate options
X-T3 has big features for a good pricing point
he kept his Sony A7III and added X-T3
he started using X-T3 everywhere
using both, he was starting to fall out of love with his Sony cameras, because it didn't match the video specs of the X-T3
he had no proper portrait lens for his Fujifilm system. He knew he just needs proper glass for that
awesome autofocus on X-T3
he can live with APS-C size sensor
he sold one of his Sony's, and bought another Fujifilm and put it on a rig
despite initial struggles, at the end he didn't regret selling his Sony
Fujifilm battery life was OK. Only needed to change battery twice in a wedding
once he started editing pictures, it was just so much easier editing the Fujifilm files and to get the desired colors
he lost hope of Sony, also from the video side of things
he honestly does not need full frame
now he sold all his Sony cameras and lenses, and is Fujifilm only
Fujifilm is developing new cameras at a good price point
Now it's Sony time to move: invite this guy to some press event, let him ride on a Quad-bike over some sand dunes, offer a few nights in a high class hotel, and you might win him back ;).
Just kidding… but surely I think I can say that from the influencer marketing point of view, Sony is way ahead to Fujifilm.