Fujifilm X-T3 Autofocus Test: Old Firmware vs New Firmware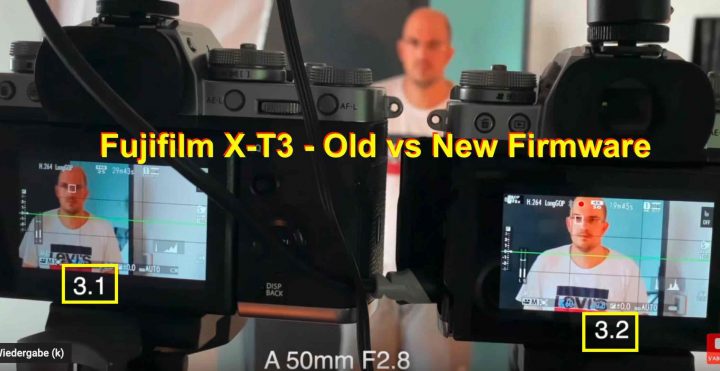 Fujifilm recently released Fujifilm X-T3 firmware 3.20, which promises a noticeable improvement in face and eye autofocus.
If you are looking for feedback, take a loot at the 281 comments in our Fujifilm X-T3 firmware 3.20 article.
Now we have a first autofocus comparison between the Fujifilm X-T3 old vs new firmware.
The video is French by les-guides-fujifilm.com. Left side camera old firmware, right camera new firmware.
The video below starts at min. 8.06, which is where you can see both cameras tested side by side.
If somebody speaks French (sadly it's not one of the 4 languages I speak), it would be great if you could quickly summarize in the comments what he thinks about the new firmware.
UPDATE: here is the translation from one of our readers (thanks)
face detection is generally better as it works with smaller (further away) faces, and is more reliable
multiple faces are also better handled than before
in difficult circumstance (such as somebody wearing glasses, face seen from the side, …) there seems to be no improvement.
with 56 XF strange results: new firmware seems to degrade the autofocus performance
with 16-80 XF there's a general improvement
tracking remains a bit laggy, no real improvement vs previous version
Don't forget to:
→ Top X-T Community: Fujifilm X-T facebook group
→ Top X-T Page: Fujifilm X-T Page
Support FujiRumors on Patreon
Follow FujiRumors on Facebook, Flipboard, Youtube, Instagram, RSS-feed and Twitter