Fujifilm X-T5 Announcement in 2022 – A Good Timing or Too Close to X-H2? (VOTE NOW… and My Take on It)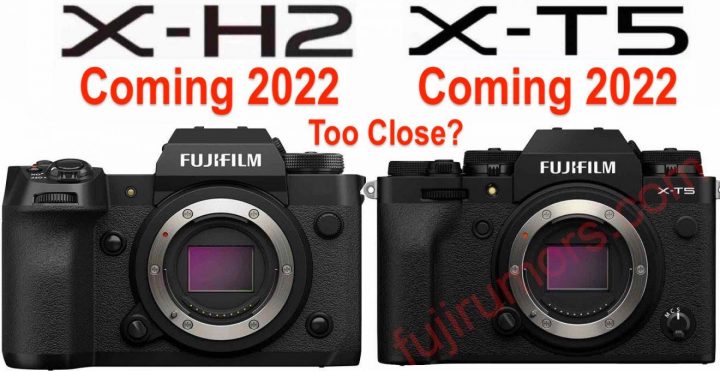 Pre-Orders start soon:
Déjà vu anyone?
Hasn't Fujifilm learned from its errors? Or is it different this time?
Let's talk about it shortly.
After we shared the rumor about the Fujifilm X-T5 coming in 2022, hence just shortly after the Fujifilm X-H2S and more importantly the Fujifilm X-H2 (which will feature the 40MP sensor just like the Fujifilm X-T5), many FR-readers and X shooters said that Fujifilm is repeating the error they did in the past, when they launched the X-H1 and X-T3 too close to each other.
Is it really like this?
Well, I don't really think so.
The situation with X-H2 and X-T5 can't be compared to one of X-H1 and X-T3.
When the X-T3 was launched just 6 months after the X-H1, the X-T3 featured an all new sensor and processor, letting the X-H1 look old after just 6 months of life. And sadly, the fact that the X-H1 was still the only X series camera with IBIS, wasn't enough to assure it decent sales.
But this time the Fujifilm X-T5 and X-H2 will share exactly the same sensor and same processor.
Another problem for the X-H1: in some key areas, the X-H1 and X-T3 were ergonomically actually quite close to each other. Both had a dedicated ISO and Shutter dial and both had those lovely sub-dials we find on the X-T series.
So X-T3 and X-H1 both appealed to the same target audience: photographers who love manual controls and having as many dedicated dials as possible.
But that confusion ended with the Fujifilm X-H2S and X-H2, which offer only one PSAM dial and therefore clearly target totally different customer needs and preferences compared to the X-T5, which will retain all those lovely dials.
But there is more!
According to our information the Fujifilm X-T5 won't have any option for a battery grip, which marks another clear distinction between the X-H and X-T line.
Also, there won't be any Fujifilm X-T5S with stacked sensor, so this protects the X-H2S sales even more.
Is there anything else?
Well, for that my guys, you'll have to follow FujiRumors. As soon as I can, more Fujifilm X-T5 rumors will drop ;).
What Fujifilm needed to do, was to clearly differentiate both lines. And if they did so, both lines would be able to co-exist without hurting each others sales too much.
And in my opinion, Fujifilm was able to do that.
But what's your take on that? Feel free to comment down below and vote the survey.

Loading ...
100% Fuji Colors Power
Rumors and Discussions