Fujifilm X Shooter Magdalena Wasiczek Wins International Garden Photographer of the Year Award (XF80mmF2.8 Macro)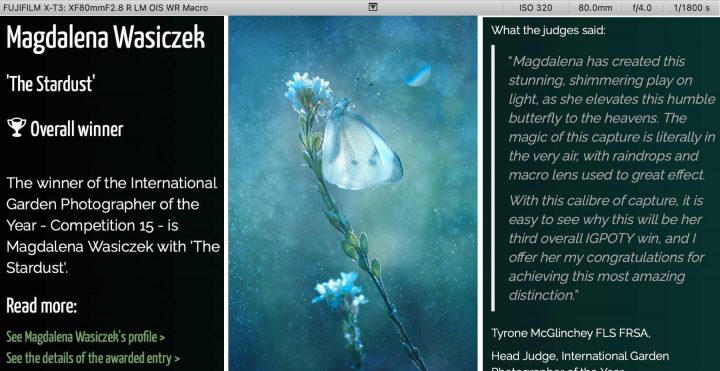 Fujifilm X shooters have won plenty of the most prestigious awards over the years using their X and GFX gear.
Not enough? Well, then know that photographers using Fujifilm cameras also…
One of the most recent entires in the awards list is the one of Fujifilm X shooter Magdalena Wasiczek, who won the International Garden Photographer of the Year Award (IGPOTY).
She used a Fujifilm X-T3 with the insanely sharp XF80mmF2.8 macro (a lens that I also own).
The judges write:
Magdalena has created this stunning, shimmering play on light, as she elevates this humble butterfly to the heavens. The magic of this capture is literally in the very air, with raindrops and macro lens used to great effect.

With this calibre of capture, it is easy to see why this will be her third overall IGPOTY win, and I offer her my congratulations for achieving this most amazing distinction."
Congratz to Magdalena! You can check out all the details and see the image in full size at igpoty here.
But wait, there is more!
Also John Pettigrew made it among the finalists in the wildlife in the garden category with an image taken with X-T30 and XF55-200 (image below).
Hey Mr. Polin… are you really sure about that Fuji, LOL? ;)