3½ Reasons Why Fujifilm is Waiting so Long to Release the Fujifilm X100V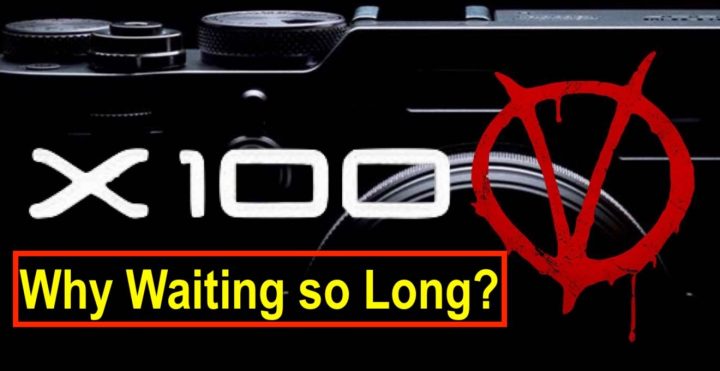 Fujifilm X100V
When I recently posted the huge Fujifilm camera release timeline, I made one single error, that thankfully you guys corrected in the comments.
I calculated, that the Fujifilm X100 series got a refresh every 2 years, which is absolutely correct. But then, based on that refresh cycle, I said that the X100V should come two years after the X100F (which was announced in January 2017).
But this would mean the Fujifilm X100V should have hit the market in January 2019, which evidently it has not. Our sources say it will come at some point in 2020.
Now, not to justify my error, but, well, I run FujiRumors 365 days a year non stop, and I wrote that particular article in a bar, drinking beer, while waiting for the rain to stop and finally go out shooting again with my X-E3, as you can see here. Well, at this point I'll just say is that it rained a lot that day ;)
I apologize if I confused you guys, so I felt I need to address this in a dedicated article.
But also, this is a good opportunity to quickly discuss, why Fujifilm is waiting so long, to finally give us a successor to the Fujifilm X100F.
Down below 3½ reasons for that:
Fujifilm was never in a hurry, to replace the Fujifilm X100F, since it always sold very well. Fujifilm officially said here it got an "unprecedented interest" and sold "far more than X100/S/T".
The Fujifilm X100F does play in a league of its own. Sure, it has its competitors such as the Ricoh GR series, but the battle in the fixed lens camera market is by far not as fierce as in the interchangeable lens market.
The Fujifilm X100 line has recently celebrated its 8 birthday.
Since the original X100, the camera has, for the large part, kept its form and function, which is great, since it is, according to the FujiRumors community, the by far best looking Fujifilm camera.
Sure, there were some changes in these 8 years.
Ergonomically speaking, the X100 line
became even more retro with a combined shutter/ISO dial
received a front command dial
got a joystick
got rid of all buttons on the left side to allow for one-handed operation
But there were also minimal design changes such as
However, what never changed in all these years, was the lens. Still today, the Fujifilm X100F sports the same lens used back in the days for the 12 megapixel Fujifilm X100.
Don't get me wrong, it's a fine lens. But now, in 2019, when we have 26 megapixel Fuji X cameras, we could definitely need a lens that fits the new sensor better, and maybe even uses faster autofocus motors.
So, Fujifilm took advantage of the great Fujifilm X100F sales, to discuss this option and to re-design the lens. This takes time, but as we have seen before, there was no hurry to come out with the X100V anyway.
ENDLESS TILT SCREEN DISCUSSIONS?
Probably Fujifilm HQ got stuck since half a year now on the same epic and unsolvable question: should the X100V get a tilt screen or not.
In order to help Fujifilm managers out of that complex discussion, I have launched a "tilt screen or not" poll at the bottom of this post. Vote it and help Fuji ;).
Ok, that's a bit of a mockery on Fujifilm, and not a real reason for the delay, but hey, let's have fun, right :).
And surely, whenever I have the answer to the tilt screen dilemma, you will read it on FujiRumors.
With all that said, the Fujifilm X100V is on the roadmap for sometimes 2020. And here is what we know so far:
Still going strong, the X100F at BHphoto, Adorama, AmazonUS, Focuscamera
TOP X100 ARTICLES
Here is a selection of X100F related articles, that I think you should definitely check out.
DO NOT FORGET TO…


Loading ...