Amazon Prime Gone Crazy: This Guy Got a Fujifilm X100F for $ 102 Only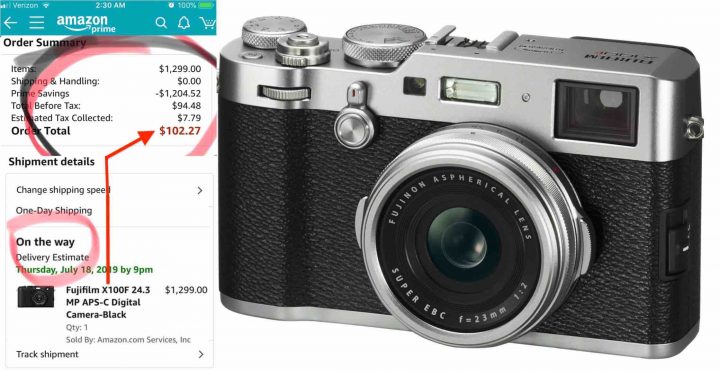 A member of our Fujifilm X100 group, was able to get a Fujifilm X100F (shippend and sold by AmazonUS) for $102.
That's a hefty 92% discount over the regular $1,299.
AmazonUS has now marked his order as "on the way". The lucky guy writes:
"The tracking info showed that UPS was already in possession of it."
This would not be the first time, that during the hasty Amazon Prime days, the Amazon system messes up, offering brutal discounts on gear.
Another X100 group member said he noticed a Canon 5D mark IV selling for $ 94, and added that at AmazonPrime 2018, there were several reports of 90% discount on gear.
So, today is the last day of Amazon Prime deals, and I hope that some other of you guys reading this will stumble on such a terrific deal.
I personally grabbed a strongly rebated Sandisk Ultra Dual USB Drive Type-C for myself, since it offers dual USB-3/C connections, so I can use it on my MacBook Pro, but also on the computers of my school, which have no USB-C port.
For dedicated Prime deals in your country check out: Amazon US, AmazonDE, AmazonUK, AmazonFR, AmazonIT, AmazonES
Amazon USA Prime Deals
Make sure to check out the dedicated prime pages down below to see all deals.
EUROPE PRIME DEALS