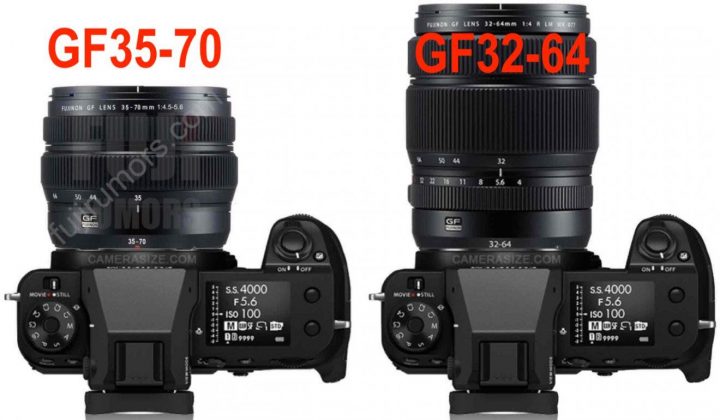 DON'T MISS IT: September 2 at 9AM New York Time – Fujifilm X Summit and Live Blog on FujiRumors
Lots, if not everything, has already leaked here on FujiRumors about the upcoming Fujinon GF35-70mm f/4.5-5.6.
We know about the collapsible lens design, we know about its size (see above), we know it will not have OIS and no aperture ring, we know its price.
Another tidbit, though, we can add today, is that the Fujinon GF35-70mm f/4.5-5.6 will weight less than half than the one Fujinon G mount lens I own and I am totally in love with as it is a prime lens that can zoom: the Fujinon GF32-64mmF4 R LM WR (which weights 875g).
I see what Fujifilm is trying to do here.
I mean, how the heck can any zoom lens compete with the stellar GF32-64?
Certainly the GF32-64 is unbeatable in terms of image quality. I mean, have you seen the image I've shared of the village I live in and I did a massive crop and you could still clearly recognize the curtains on my sleeping room? And the lovely pop it has even when shot af f/5.6?
If you can't beat it in terms of image quality, then beat it in almost everything else: make it much smaller, much lighter and much more affordable, and it will have a chance to carve out its niche among Fujifilm GFX shooters.
I personally will stick with the Fujinon GF32-64mmF4. Mainly because I already own it, and because I used it on a 6 hours hike recently. I packed with my GFX100S in my small Camslinger Outdoor bag (yep, it still fits in that small bag !!) and hiked no problem with it.
So for now I don't see the need for the GF35-70mmF4.5-5.6, although having such a light and compact G mount zoom would certainly be a temptation for those looking to make their GFX system as portable as it gets, maybe in combination with the super small GF50mmF3.5 prime.
The GFX Community
Follow FujiRumors: Facebook, Flipboard, Instagram, RSS-feed, Youtube and Twitter
GF 35-70 Rumor Recap