Meet My Fujifilm GFX100S: What I Love, What I Hate and My First Firmware Request

The Mountains Shall Wait
So, my Fujifilm GFX100S just arrived as well as my Fujinon GF32-64mmF4.
The original plan was to hit the mountains and go full into landscape photography mode as soon as I have my GFX gear. But my wife decided she needed to take a 3 week long intensive course in Italian language starting exactly this week, which means I basically have to stay at home to take care of my son while she studies. Unluckily not the best timing ;).
But the summer is long and I'll get my hiking opportunities. And it never hurts to have quality time with my son, too :).
The RAW Power Shall Wait (due to my Stupidity)
My initial thoughts?
Well, I haven't tested it properly as I've just received it. Plus, I shot everything on my new Sandisk 128GB UHS-II cards and I realized I had no dedicated UHS-II card reader, so I quickly grabbed this one on Amazon and I should receive it tomorrow.
Hence, I could not really play properly with the RAW files.
Initial Thoughts & Experiences
With that said, this morning I took the GFX100S and GF32-64 out for a little walk in minuscule hometown.
A gray day with occasional rain. But in weather sealing we trust (unless it's a Sony ;))
Now, I won't bother you with stuff that tons of other excellent reviewers already told you.
Let me be more personal and I'll tell you what I loved and hated about it, plus a few more things.
Hates – Sort of…
Hate Nr.1
I left my apartment with my GFX, and literally as soon as I was out I met a teacher colleague, who immediately noticed the Fujifilm GFX100S and GF32-64 and asked me if I plan a photo shoot today. The fun fact is that I always leave my apartment with a camera, and it's mostly the X-E3 with 27mm. And she often saw me with the X-E3 but never commented on it. But the GFX100S just grabbed her attention much more.
The moral of the story: at least coupled with the GF32-64, the GFX100S is not the best choice for discreet street photography.
But that's also not what I bought it for. I want it for landscape photography. So it doesn't bother me. And if one day I want to attempt street photography with the GFX100S, then I'd get the much smaller GF50mmF3.5 for that purpose.
Hate Nr. 2 – or is it Love?
Related to what I said above, I think in general we can say it's not really the lightest and smallest system out there. It's since I've left DSLR's for mirrorless Olympus that I wasn't used to such a weight and size.
But quite frankly, it's hard to put this in the "hate" category, as I have to keep in mind that I am holding in my hands a camera with a sensor 70% fuller than full frame and despite that it is hardly bigger or even smaller than some full frame mirrorless cameras out there.
I mean, look at this image my wife took of me. I am fully stretched, holding the GFX100S with one hand only trying to get a nice perspective for my image. And the image I get is tack sharp! That I can even take such an image with a 100 megapixel digital medium format sensor camera is quite astonishing.
Hate Nr. 3
Ok Fuji, I get it. For the sake of going as mainstream as possible you got rid of those retro-dials that I love so much. I can understand that.
But since my preferred way of operating a camera is having as many dedicated dials as possible, I'll put the GFX100S ergonomics in the "hate" category.
And yet…
… I applaud you for getting rid of the (in my opinion) horrible GFX100 ergonomics. In fact, the original Fujifilm GFX100 was the first Fujifilm camera that I struggled to operate out of the box.
Having a dedicated PSAM dial certainly simplifies things for me.
I can set up and operate the GFX100S easily without needing to figure it out in the manual.
It's fast, it's easy, it's convenient. But it's just not as fun as with those retro dials.
A Firmware Request
A Firmware Request – C1 to C6
Speaking of PSAM dial and setting up the camera…
The Fujifilm GFX100S has 6 custom settings on the PSAM dial.
Now, I did set them up to my taste. For example, my C1 setting is my "long exposure" mode. I enabled self timer, set ISO100, disable in camera noise reduction and more.
I also gave it the name "long exposure" in the camera.
And here comes the firmware request Fujifilm.
in the menu, you can name your custom settings. But on the top LCD they always show up as C1, C2 etc. It would be nice if the camera would display the name I assigned to each function, so C1 would show up as "Long. Exp." in the top LCD, C2 would show up at "Fast Mov." and so forth. So in case I get confused and don't remember if C5 or C6 was my black and white setting, I will see it immediately on the top LCD as I turn the dial.
Loves
3 Way Tilt Screen

The Fujifilm GFX100S is my first camera with a 3 way tilt screen, and I confirm it's the smartest and best screen design there is out there, for both, stills and video. Unless you want to take selfies or make interviews with multiple cameras and need to check the screen often. I love it.
Image Quality
I can't judge it fully at the moment, as I have to wait for my SanDisk Extreme PRO SD UHS-II USB-C reader to arrive tomorrow. But from what I could judge just by pixel peeping in the EVF, I get way more image quality than I deserve!
Nostalgic Neg
You can see a sample here. I am already in love with that vintage William Eggleston and Stephen Shore inspired look!
The Joystick

I know some don't like the new joystick design, others instead prefer it.
So what about me?
Well, I got used to the new joystick immediately and both designs are fine and easy to use for me. However, I will say this: the GFX100S joystick design certainly feels more sturdy and reliable than the previous design, and I already reported about the issues I had with it on my X-E3.
Conclusion
Well, I guess there can't be any conclusions. Not as long as I haven't brought it out on my mountains and I can properly play with the RAW files.
But overall the first impact was very positive and in some moments also borderline enthusiastic. I can defnitely see what Fujifilm is doing here and it was probably the right decision to skip full frame for this.
I will just share a nostalgic negative image of my mini-shoot today, while waiting to finally be able to play around with the RAW files and share more of them in the weeks to come. And why not, I'll also share a jpeg showing the town I live in and then crop brutally into the jpeg file so you can see the curtains of my sleeping room.
More images to follow on my instagram next.
Follow FujiRumors on Patreon, Facebook, Instagram, RSS-feed, Youtube, Flipboard and Twitter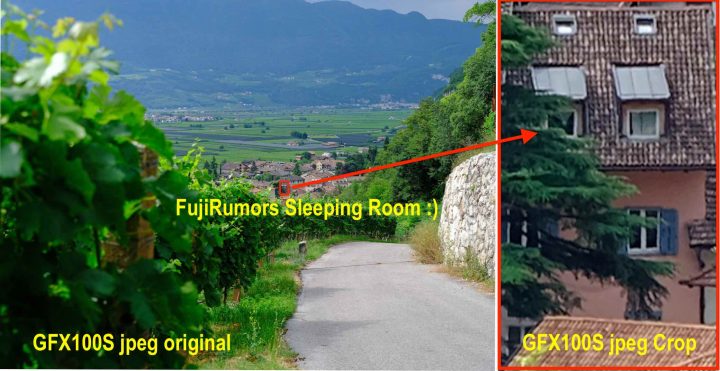 Sieh dir diesen Beitrag auf Instagram an
Sieh dir diesen Beitrag auf Instagram an