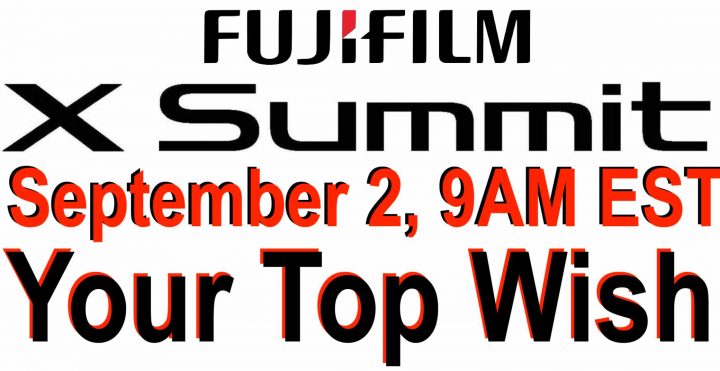 So, very soon, on September 2 at 9AM New York time, Fujifilm will have a major announcement day.
The gear that will surely come is this one:
But as you know, X summit can always contain surprises that have never been rumored before.
So the question is, what would you like to get surprised with on September 2?
And just briefly, my quick thoughts on the gear to be announced tomorrow.
Great move. Using the same design of GFX100S saves tons of R&D. Making GFX more affordable is of crucial importance. If there is the AF boost Fujifilm promises, then this will be a big hit. But as I wrote on my GFX100S hands on, retro vintage dials are just more fun for me to use, so I hope Fujifilm will also continue to give us different options in terms of form factor.
All good on specs (and really lovely from the leaked images). As I wrote already, it fixes the true anomaly in the G mount lens system. However, also here, I love aperture rings. This one has none. So I'll stick with my GF32-64mmF4.
After the X-T30II specs leaked, some said that the X-T30II is slightly bigger than the original X-T30. But no, it is not. It's exactly the same body size. The X-T30II is more or less just a firmware update as the Fujifilm X-E2S was for the Fujfiilm X-E2. The best news around this camera, is that we now can hope for major X-T30 firmware update, as also the X-E2 got the same firmware feature of the X-E2s at some point.
Fujinon XF23mmF1.4 R LM WR and XF33mmF1.4 R LM WR
Faster autofocus (linear motor), better build (weather sealing), capable to resolve more megapixel (for future higher megapixel cameras). This was not only a good move by Fujifilm, but a necessary one. You can read the full specs for both lenses here. Especially considering how popular these two focal lengths are, Fujifilm had to release some absolute stunners. And that's what they are!
Maybe we don't get an exciting new camera with brand new sensor. Maybe we don't get a totally surprising new lens (oh, where are you XF150-600), but the Fujifilm X Summit of tomorrow, September 2 at 9AM New York time is a very well thought out step forward by Fujifilm. Everything (except for the X-T30II) makes sense and will contribute to the growth of the X and GFX system.
And as I said above, I can't remember a Fujifilm X summit that has not surprised us, either with some prototypes to show, development announcements and what not.
So, again, drop down below what you'd like to be surprised with tomorrow.
The Fastest Growing Fujifilm Group
Follow FujiRumors on Patreon, Facebook, Instagram, RSS-feed, Youtube, Flipboard and Twitter
Join Our Owners Groups
Join Our Facebook Pages