Fujinon XF 8-16mm F2.8 and XF 200mm F2 Compared to Equivalent Full Frame Glass, Owner Manuals, Reviews and More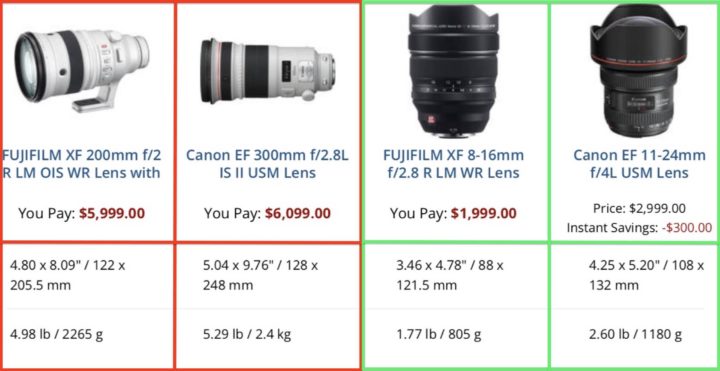 Fujinon APS-C vs Equivalent Full Frame Glass
The Fuji year 2018 saw the arrival of two high-end, fast and top quality lenses, the Fujinon XF200mm f/2 LM OIS WR and the Fujinon XF 8-16mm f/2.8 LM WR.
Both Fujinon lenses are still smaller, lighter and cheaper than perfectly equivalent full frame glass, as you can see in this comparison, where we compare the Fujifilm XF200mm f/2 (with 1.4 TC) versus the Canon EF 300mm f/2.8L and the Fujinon XF8-16mm f/2.8 with the Canon EF 11-24mm f/4L USM.
Check out the comparison here.
Price and size is one of the advantages of an APS-C system. For more advantages, read this article.
And as soon as the Fujinon XF33mm f/1.0 hits the market in 2020, Fuji's APS-C system will have also an equivalent to something like the Nikkor 58mm f/1.4G and the Sigma 50mm f/1.4.
So, that was the fast glass.
But many people, who buy into an APS-C system, probably do it because they look for the best balance between size, weight, price and performance.
Lenses like the Fujinon XF 16mm f/2.8 (which will come soon) and the Fujinon XF 16-80mm f/4 (which will come later), perfectly fit into the philosophy of the "balance". Great performance in a compact, flexible, portable and affordable package.
My prediction: Fujifilm will sell the XF16mmF2.8 and XF16-80mmF4 like hot cakes, just like they do with their f/2 trinity, the XF23mmF2, XF35mmF2 and XF50mmF2.
Good that Fujifilm is boosting up its lens production by 70%.
But today's roundup is all for the big and fast guys, the Fujinon XF 8-16mm f/2.8 LM WR and Fujinon XF200mm f/2 LM OIS WR. Enjoy it.
Fujinon XF 8-16mm F2.8: BHphoto, Adorama, AmazonUS, Focuscamera
Fujinon XF 200mm F2: BHphoto, Adorama, AmazonUS, Focuscamera
Fujinon XF 200mm f/2
Fujinon XF 8-16mm f/2.8
Gordon Laing – Fujinon XF8-16mmF2.8 Review
Andy Mumford – Fujifilm XF8-16mm f2.8 – A Practical Review
bigheadtaco – Fujinon XF8-16mmF2.8 Review