Five Reasons to Switch to Fujifilm for Weddings, From Full Frame DSLR to Fuji X, Worth it? and More Switch Stories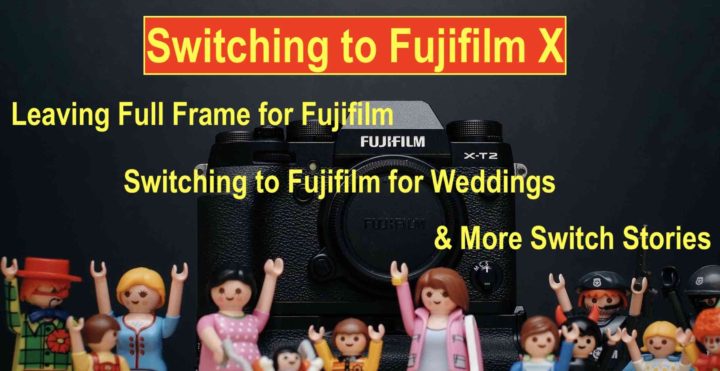 Fuji X Switch Stories
FujiRumors is a 100% independent space.
I don't get free or discounted gear from Fujifilm, I don't get special customer service, I don't get invitations and free flights/hotels to launch parties, I don't get free t-shirts or hats… and that's good so.
I wake up, I go to work, I come back home, I blog and I write whatever I want.
This independency allows me to write for example articles like the ones below, that Fujifilm surely did not appreciate:
So actually I don't think there is one brand out there, that we attacked more than Fujifilm ;).
But my job is not to make Fujifilm happy, but to be loyal to those of you, who decide to read this blog. And hence, I will report everything. Fujifilm does not pay me a penny, and if this blog runs at all, it's only because you decide to support it.
On the other hand, I can't hide that I simply fell in love with Fujifilm many years ago, and it's a love that gets stronger as the years pass by.
So, while I will keep up delivering you everything, every now and then, I also feel like sharing some good switch stories of people, who talk so passionate about Fujifilm.
It's the same enthusiasm that caught me many years ago, hence, I will share a few of these stories today.
Check them out or not, it's up to you.
Enjoy your weekend, love you all (even if don't shoot Fuji ;) )
Patrick
Join FujiRumors on Facebook, Instagram, RSS-feed and Twitter
Switch to Fuji X
Ian Worth – Full frame DSLR to FUJI-X – 2 years on, was it the right decision?
professional full time photographer
DSLRs were heavy for his weddings, and started with Fujifilm
Initially he shoot weddings with Nikon D800 and Fuji X-T2 together
He prefered the look of Fuji images
Then he had to make a decision, Nikon or Fujifilm
He compared the images, and saw that he was not going to lose any image quality. He does not print above A2, and Fuji's 24 megapixel are more than enough
He sold all his Nikon gear and went all in with Fujifilm
Initially autofocus was his main concern. But the X-T2 got better with firmware updates. Now the X-T3 autofocus is lightning fast
For studio work he misses the optical viewfinder, looking thorugh the EVF for long time makes his eyes a bit tired. But EVF in Fuji cameras is fantastic overall, and you always see your exposure, and he gets more keepers
The Fujifilm system is also cheaper than a Nikon full frame system
Looking back, he thinks it was completely right decision. And the X-T3 is also a good quality video camera.
John Branch IV Photography – Wedding Photography: 5 Reason I Switched to Fujifilm for Weddings
Weight
Perfect color profiles, less editing
Bokeh is overrated, and enough bokeh with some Fujinon lenses
crazy low light performance and shadow recovery
super fun to shoot with
KentuckyMan30 – Why I Shoot With Fujifilm
Main reason is functionality and usability. it's simpliefied and makes sense
Inspiring camera and lens system
Great design. Fun to use
Image quality of sensor and lenses delivers what he needs for his professional work (weddings etc)
Difference to full frame is negligable at best
Has plenty of dynamic range and good ISO performance. Enough resolution. Fantastic image quality
Fujifilm is a joy shooting and has the image quality he wants
Lenses is also a reason to shoot Fujifilm. Small and fast primes. Lenses are on par if not better than Canon L lenses
Firmware updates is another reason to shoot Fuji
Fuji holds his heart and he does not have any desire to shoot anything else
Peter Barnes – Why I Almost Left Fujifilm for Canon
lock-up issues with X-H1, but lots firmware updates fixed the issue
The he got an X-T3 and it was rock-solid and worked perfect
happy he sticked with Fujifilm