Fujinon XF 10-24mmF4 vs XF 8-16mmF2.8 (rated F2.8 but more Likely T3.5), XF35/1.4 vs XF35/2 – Fujinon XF Lens Review Roundup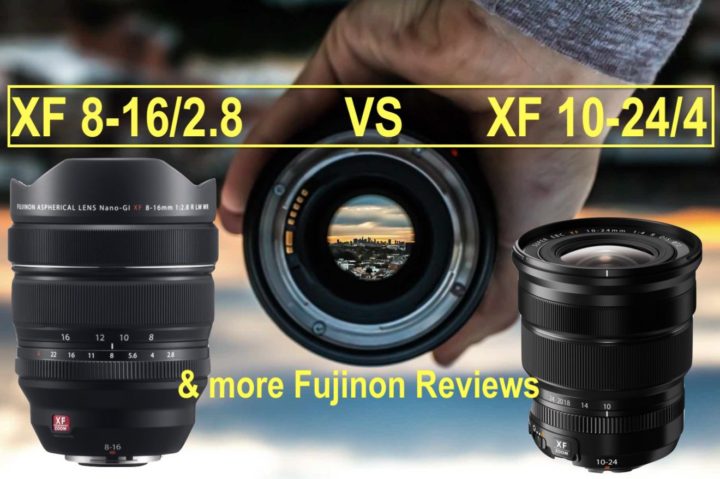 Fujinon XF Lens Roundup
Fujifilm is currently running huge deals on some XF lenses (full list below).
So I have collected a bunch of Fujinon XF lens reviews to maybe help you out to make your decision if to grab one of the discounted lenses or not.
But before we go to the reviews, here is the list of official Fujifilm deals.
Prime Lenses
Zoom Lenses
Camera Deals
Fujinon XF 8-16mm f/2.8 Reviews
Michael de Maven reviews the Fujinon XF 8-16 f2.8 and compares it to the Fujifilm XF10-24 f4. Is the Fujinon XF 8-16mm f/2.8 worth $2k? Are you better off getting the Fujinon XF10-24mm f/4? Here are his key points:
XF 8-16 has lots of lens elements, so lots of engineering went into this
10-24 is half the weight of 8-16
8-16 is front heavy
8-16 better build quality
wide open the 10-24 at f/4 slightly sharper in corners than 8-16 at f/2.8. Same at telephoto end
at 10mm both at f/5.6 they are close
at widest focal length and widest aperture, the 8-16 has a clear advantage in the peripheral center
stopped down at f/8, the 8-16 has a big sharpness advantage in peripheral center
both lenses very good with chromatic aberration and minimal sun flare in both
he talks about F-stop and T-stop. F-stops does not tell us how much light really hits the sensor. The amount of light that really comes through the lens on the sensor is T-stop.
with exactly the same exposure settings, the XF8-16mmF2.8 delivers slightly darker results than the XF10-24
the XF8-16 is rated f/2.8 but according to his testings it's probably about a T3.5 lens
he ends up recommending the currently $250 discounted XF10-24mmF4 to most people
he recommeds the currently $500 disocunted XF8-16mmF2.8 to professional wedding photographers, astro photographers, for architecture (it's wider) and for landscapes (it's weather sealed and sharper at f/8, so better for large prints)
More XF 8-16mm reviews:
flemmingbojensen – Wide at Last – First impressions of The Fujinon XF8-16mm F2.8 lens
photographyblog – Fujifilm XF 8-16mm F2.8 R LM WR Review
imaging-resource – Fujifilm XF 8-16mm f/2.8 Field Test: Very good optical performance at a high cost
Zoom Lens Reviews
Prime Lens Reviews