My main 2 complaints about the Fuji X-T1!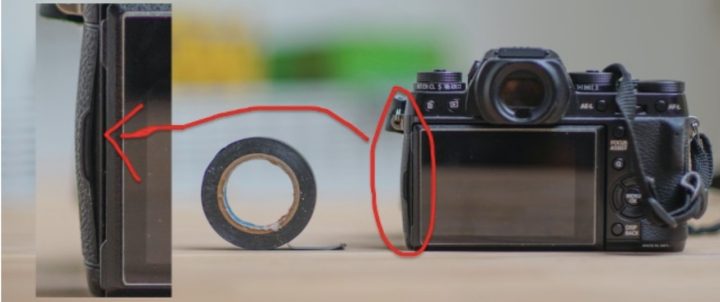 Here at FujiRumors, we discussed many times about what Fuji could improve via Firmware on current cameras or via hardware in future models. And thanks goodness, Fujifilm has shown many times, that they listen to feedback coming from the X-shooter community.
But, of course, the system is not perfect, and there are still things that could be improved. And since I love what Fujifilm did over the last years and I want future models to be even better than current ones, today I'll share my main two complaints with the X-T1.
FLIMSY DOOR
I'm pretty annoyed by that flimsy X-T1 accessory door that bends and makes weather sealing useless! And, looking at this FXF Thread here, I'd say that I'm not the only one with this problem.
I won't send it in for repair, since I don't know if the new door will be better.
I'd really appreciate if Fujifilm would tell us more about this issue.
Is this a sporadic problem of certain X-T1's? I don't think so, but I'd like to hear Fujifilm on that.
Did Fuji recognize the problem and do newer X-T1's come with a better accessory door?
If I send it in for repair, can I be sure that this problem won't occur anymore with the new door? Some of us would have to pay for a repair, so please let us know if it's worth to send it in.
The graphite versions seems to have no issue.
I've tried to contact several Fuji services around Europe, but I did not get a clear answer on that. So, Fujifilm, I think we X-shooters should be better informed about the real dimensions of this problem and the efficiency of an eventual repair.
If you have the same problem, I invite you to contact your local Fuji support and, as milandro suggested here, contact also the Fujfilm headquarter and send them the link to this thread.
WAXY SKIN TONES
Don't get me wrong. Fuji JPEGs are fantastic. More and more of my keepers are OOC JPEGs.
But there is one thing that, IMO, could be improved: Skin tones at hight ISO!
Ok, maybe you like the jpeg engine used in X-TransII cameras and the skin tones at high ISO, so you can stop reading here. But I'm one of those fellow X-shooters, who think there is space for improvement.
That's not an issue if you shoot RAW. It's also no problem if you keep lower ISO settings in JPEG's. The so-called "waxy skin tones" are limited to JPEG at high ISO. The reason? Noise reduction seems to work too aggressively.
The good thing is, this is fixable via Firmware update. Here are two possible solutions:
allow to turn down noise reduction even more than currently possible
introduce in the menu the voice "classic jpeg rendering" (or whatever), which will render skin tones at high ISO like the X-Trans I X-series camera JPEG engine! You can then select what you prefer, the X-TransI or X-TransII cameras jpeg engine
To know more about it and see some samples, we have a "Stop the Waxing" thread dedicated to this issue here.