Concerns with Quality of Fujifilm GF Medium Format Lenses (and Overall Fujifilm Camera/Lenses)… and a Little Ode to Local Stores
Check Your Lenses… and a Little Ode to My (and Your) Local Store
One of the reasons why I like to buy my gear at the local dealer (instead of ordering online), is that I can always inspect the gear before buying it.
So, when last month I bought the XF10-24 and XF27mm, my dealer opened the boxes, checked if there was any issue such as dust spots inside the lens, and he even checked if the latest firmware for the lenses was installed (it wasn't, so he updated the lens firmware in store for me… AWESOME!)
So far, with ALL Fujinon lenses I have ever bought, I never had any dust spot issue. Actually I always perceived my lenses as excellently build. I mean, my XF35mmF1.4 still works perfectly, even though it was minutes completely under water, the day I destroyed my X-E2 in a river.
Anyway, I know things like dust spots in the lens happen, and I experienced them in the past when I used other systems. Since then, my habit is to visually check lenses, before buying them.
If small, then dust spots will have absolutely no influence on image quality.
However, when you pay hundreds or even thousands of dollars for a new lens, you do want it to be perfect out of the box, and personally I would change any new lens, even if it has the smallest dust inside it.
With that said… let's talk about Fujifilm quality.
Fujifilm Prodcution Quality: Factory Video & Teardown
2 year ago, back in February 2016, Lensrentals made their first and only Fujinon lens teardown (XF55-200).
They said that the construction is "impressive". They never saw so many screws fixed into a lens and could not find any weak spot. They concluded that Fujinon lenses are "designed by people who know how to make reliable lenses". Read and see the teardown here.
Has something changed since the time, when Lensrentals made the teardown? Let's look into it today.
Fujifilm Quality Issues?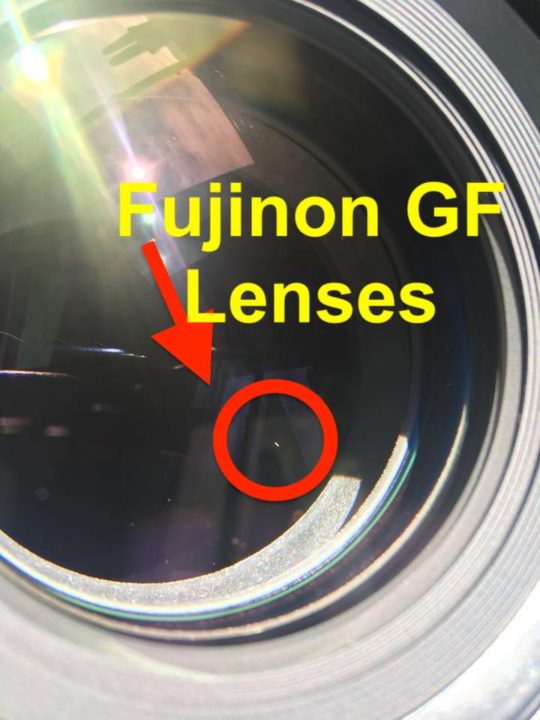 Some people speculated that, with the Fujifilm X and GFX system suddenly booming in the last 2/3 years, and Fujifilm having a hard time to match the demand, Fujifilm might have stepped up production to its limits, but at the same time no longer checking the quality of their lenses and cameras as meticulously as they did in the past, when production was low.
But let's make an example of a typical "quality check".
As we reported in November 2015, when Fuji Guy Billy brought us inside the Fujinon lens factory, one important quality check was to take out 10% of all manufactured Fujinon lenses from their boxes and visually check them, before shipping to stores. 10% is a very decent number for a last quality check. It would be interesting to know if Fujifilm still does this today.
I think this is an important step in the quality check-list, since it gives Fujifilm immediate feedback about their products and they can quickly intervene to find and fix eventual quality issues and imperfections, before gear even leaves the factory.
GF Lenses Quality Issue?
Again, I say it loud and clearly: we are not talking of optical quality of XF or GF lenses, which is and remains stellar.
The reports we share today are about build quality.
And a disclaimer: I love Fujifilm from the bottom of my heard, and I am grateful that they designed such wonderful camera and lenses, which have brought back fun into my photography. But part of our love relationship is to be honest with each other, and hence, I report about it today, so that Fujifilm gets some feedback they can use to eventually improve their products even more.
Let's start:
We have already reported about complaints with X-T2 quality here. And also my X-E3 has some issues, as I wrote here.
Now it's time for Nasim Mansurov to complaint about Fujinon GF lens build quality. He says:
"First, it was the Fuji 63mm f/2.8 that had a large black spot between lens elements, so I sent it back to B&H Photo Video for a replacement […] The new copy didn't have the same problems and turned out to be excellent optically
However, I have not been as lucky with the Fuji GF 110mm f/2. I have now gone through two copies of that lens (waiting for the third replacement) to see if I can obtain a debris-free copy of this lens. While I don't mind small dust specks between lens elements (and those are perfectly normal to see even on a brand new lens), the stuff I have been finding within GF series lenses is not something that would qualify as "dust specks" – those are more like large plastic particles sitting between lens elements."
Read the whole article at photographylife.
We had the same complaint, also about the GF110mm, shared by Marcello at our Fujifilm GFX facebook group here, and in the comments to his thread, there are some who report about the same issue, and others who don't have any problem.
My Take
For now I would not panic.
There is no endemic issue with Fujinon glass, and in fact I think Fujinon lenses are still not only optically stellar, but also their build quality is great. As said above, my XF35/1.4 survived a several minutes long underwater session, and after years still works perfectly!
But we also should not ignore the reports we got recently, and Fujifilm should take note of them and inspect again their quality check-list, to see if something has changed for the worst in the last few years.
And of course, feel free to leave your feedback too, may it be positive or negative. The more feedback Fujifilm gets (and they do read you guys), the better it is.
GFX Deals
Fujifilm GFX 50S + Any GF lens* (save $1,000): BHphoto, Adorama, AmazonUS
* GF63mmF2.8 / GF45mmF2.8 / GF32-64mmF4 / GF120mmF4 / GF110mmF2 / GF 23mmF4
Fujinon GF 45mmF2.8 (save $300): BHphoto, Adorama, AmazonUS
Fujinon GF 63mmF2.8 (save $300): BHphoto, Adorama, AmazonUS
Fujinon GF 32-64mmF4 (save $450): BHphoto, Adorama, AmazonUS
Fujinon GF 120mmF4 Macro (save $550): BHphoto, Adorama, AmazonUS
Fujinon GF 110mm F2 (save $550): BHphoto, AmazonUS, Adorama
Fujinon GF 23mm F4 (save $550): BHphoto, AmazonUS, Adorama