First Look: Fujifilm X-T1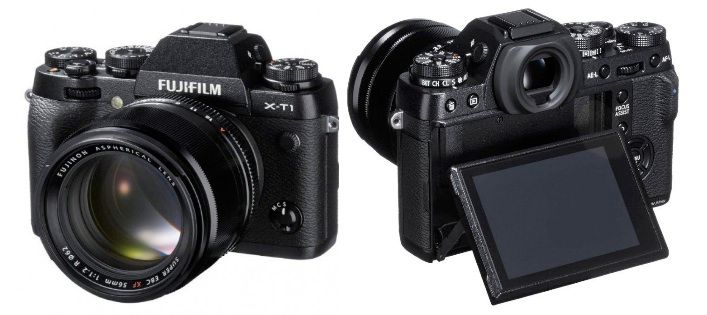 Pre-orders (and support FR)
After several months of restless work to make of the X-T1 one of the most leaked cameras ever, today you can support my work here on Fujirumors. If you choose to pre-order it using one of the X-T1 shoplinks (AmazonUS, Bhphoto, Adorama, wexDE, wexUK & Co) in this post, FR will get a small commission on it. It won't cost you a single penny extra on your camera. Thanks in advance to those who decide to support this blog… you will allow me to spread many exciting rumors also in 2014… I'm already investigating for you ;-).
PRE-ORDERS
X-T1 body only ($1,299): NORTH AMERICA: AmazonUS / BHphoto / Adorama / Pictureline / EUROPE: wexDE / wexUK / PCHstore /
X-T1 with 18-55 ($1,699): NORTH AMERICA: AmazonUS / BHphoto / Adorama / Pictureline / EUROPE: wexDE / wexUK / PCHstore /
X-T1 Vertical Battery Grip ($ 249,99): NORTH AMERICA: AmazonUS / BHphoto / Adorama / EUROPE: wexDE / wexUK /
For the live blogging CLICK HERE
and now enjoy Rico's X-T1 review!
—
First Look: Fujifilm X-T1
Talk to Rico (open forum for questions & feedback)
X-T1 Sample Images Set – X-T1 Predictive AF Tracking Samples (updated!)
XF56mmF1.2 R Sample Images –XQ1 Sample Images Set
X-E2 Sample Images Set – X-E2 AF Tracking Samples (updated!)
X-T1 Official Specs – X-T1 Official News Release
Mastering the Fujifilm X-Pro1 Reading Samples (65 free pages)
Mastering the Fujifilm X-E1 and X-Pro1 – The Fujifilm X-E2 – Beyond the Manual (pre-order)
The retro-styled X-T1 is Fujifilm's attempt to inject state-of-the-art DSLR performance into its line of mirrorless X-series cameras. With twin multi-functional command dials, five manual dials (ISO, drive mode, shutter speed, photometry & exposure compensation) and an aperture ring on most native lenses, the X-T1 features a blend of classic and modern controls that should appeal to the X-series' target audience of experienced photographers—enthusiasts and professionals alike.
The X-T1 looks and feels like a DSLR, and yet it's still a mirrorless live-view camera with a large WYSIWYG real-time viewfinder in a lightweight, compact and weather resistant body. In an ironic twist of events, the X-T1 is pretty much the "hybrid camera" that Nikon promised—but never delivered—in its popular viral Df campaign.
The X-T1 features the same 16 MP X-Trans II sensor and EXR Processor II as the X-E2 (or X100S). However, overall processing speed has been improved through hardware and software changes. There's no doubt that the X-T1 is Fujifilm's fastest X-series camera. However, maximum shutter speed is still limited to 1/4000s, and maximum flash sync speed is limited to 1/180s (though many flash units will perfectly work at 1/250s).
Sample Images
I have prepared two sample sets shot with X-T1: a regular set and a set featuring high-speed series with tracking AF.
Real-time EVF (and LCD)
With a display lag of only 0.005 seconds (X-E2: 0.05s, Olympus OM-D E-M1: 0.029s), the X-T1 is ready to capture fast action, including moving objects. The camera's predictive autofocus encompasses the central nine autofocus frames (there's a total of 49) and works with bursts of either 3 or 8 frames per second (fps) of continuous shooting. The large electronic viewfinder (EVF) is housed in the "hump" and delivers an impressive magnification of 0.77x (E-M1: 0.74x, X-E2: 0.64x) and a refresh rate of 54 fps (E-M1: 60 fps, X-E2: 50 fps). The X-T1 offers this high refresh rate even in low light: At 1.6 EV, it still clocks 54 fps, while the E-M1 slows down to 30 fps and the X-E2 to 20 fps.

SOOC JPEG (click image for full-size view)
The X-T1 supports ultra-fast UHS-II SD cards (there's a memory card slot on the right side of the body) with write speeds of 240 MB/s, and its expanded buffer can store up to 23 FINE+RAW images. Data transfer is very swift, but you don't have to wait till the camera has written the buffer contents to the memory card. Instead, you can immediately review the last 19 images of a series while the camera is still writing data to the card (X-E1: one image, E-M1: zero images). Fuji also specifies the shutter lag at 0.05 seconds and claims a startup time of 0.5 seconds.
The large 2.36 million dot EVF features a revamped, clutter-free user interface. Pressing the DISP/BACK button, you can choose between a "full" wide-screen display and a more conventional "normal" display:

Full mode

Normal mode
When you use the camera in portrait mode, the display automatically rotates and changes the user interface accordingly:
In manual focus mode, there's a new dual screen display that puts a normal display next to a magnified display along with the focussing aid of your choice: digital split image or focus peaking (now with optional blue or red outlines).

Dual mode
The X-T1 will literally grow on you. You can use it as a tiny, coat-pocketable camera that's not much larger than an X-E1 or X-E2…
…or you can add the included mini-flash (GN 11 at ISO 200) and the optional Vertical Battery Grip to arrive at a more substantial configuration:
The choice is all yours.
Accessories
To activate the included mini-flash, all you have to do is lift it up. It's powered by the camera's internal battery.
Unfortunately, the flash cannot be tilted further back to allow bouncing from the ceiling.
The X-T1 features Fuji's trademark "super-intelligent" TTL flash. Inexplicably, flash compensation is still only available in the camera menu and absent from the Quick Menu or Fn button choices. Generally, flash is still a weak spot of the X-series: High speed sync (HSS) and wireless TTL multi-flash remain high on the wish list.
The Vertical Battery Grip can house a second NP-W126 battery in order to double the number of frames per charge from 350 to 700. The camera will always first use up the battery in the hand grip, so if you remove the grip at any time, the body will still have a charged battery available.
The battery grip mirrors both command dials, the shutter button and buttons for AE-Lock, AF-Lock and Focus Assist. The latter is simply a button that replaces pressing the command dial. Strangely, the order of the AE-L and AF-L buttons is different on the camera body and on the vertical grip.
To successfully weather-seal the X-T1, Fuji had to use command dials that cannot be depressed. For the same reason, the shutter button isn't threaded and hence can't be triggered with a mechanical cable release. Instead, there's a choice of RR-90 compatible remotes for the Micro-USB port, Canon compatible remotes for the 2.5mm mic input, and a wireless remote control/tethering option via wifi using an Android or iOS device and Fujifilm's free Camera Remote app.
Wifi tethering works surprisingly well. Once you have selected a shooting mode (PASM) in the camera, you can remotely change exposure variables such as aperture, shutter speed and ISO, or add exposure compensation. You can select the focus frame by double-tapping on the smartphone screen, and there are options to set white balance, film simulation, macro mode, flash mode and the self-timer. The app's feature set is satisfactory for an initial release, with potentially more to come based on customer demand. Fujifilm could also make an SDK available, so third-party developers could develop their own remote tethering solutions.
As you have probably realized by now, the X-T1 may look like a classic SLR design, but it's not much larger than an X-E1.
If you have big hands and don't want to attach the hefty (but quite ergonomical) vertical battery grip, you might be interested in a more conventional grip. Like the battery grip, the Arca Swiss plate compatible MHG-XT aligns the tripod mounting screw with the optical axis of the camera.
The grip also provides full access to the battery compartment…
…but you could also use two new power supply accessories: An AC adapter…
…and a DC coupler that fits into the battery compartment:
These accessories may be quite useful for photographers with time lapse or long exposure applications. Speaking of: The X-T1 features a built-in intervalometer that allows you to set the interval, the number of frames and the initial delay until the camera starts shooting.
Here's an overview showing the complete X-T1 system with lenses and accessories:

Click on the illustration for a larger view
In June 2014, Fuji will add a weather-sealed 18-135mm zoom lens to this lineup. I assume that these lens will also be available as a kit lens. Two bright (F2.8) weather-sealed zoom lenses will follow suit.
Ergonomics, Dials and Controls
The 3 inch, 1040K LCD display on the back of the X-T1 is basically the same 3:2 aspect ratio screen as in the X-E2. However, it's a tiltable display in order to facilitate overhead and ground shots.
While the sheer number of buttons and controls of the X-T1 is very pleasing to an "old-school" shooter, I found some of the buttons more difficult to operate than on my X-E2. This appears to be a tribute to the body's weather sealing. I'm also not very impressed with the dedicated ISO dial: It has to be unlocked in order to change it, which can be a little awkward.
Featuring a manual ISO dial means that different ISO settings (including different Auto-ISO configurations when the dial is set to "A") can't be stored in custom user profiles. There's only one Auto-ISO configuration, and the only way to change it semi-quickly is to put Auto-ISO on one of the camera's six Fn buttons and then dive into the Auto-ISO menu when it pops up.
Speaking of ISO: The X-T1 offers a new (JPEG-only) expanded ISO mode of 51200. I tried it once, but will never use it again. It's a marketing gimmick. Fuji claims it's unique to the X-T1 and can't be put into the X-E2 via a firmware upgrade due to different electronic circuits. X-E2 users can relax, though, as ISO 51200 is really nothing to write home about.
One Fn button is located at the front and one on top of the camera, and the four selector buttons on the back also serve as Fn buttons. This is nice, but it could be better: Fuji should also offer an option to use the four selector buttons to immediately change the active autofocus (or manual focus) frame. Sure, this option would reduce the number of available Fn buttons from six to two, but Fuji could mitigate this loss by allowing the video recording button to also serve as a Fn button. Video in the X-T1 is pretty much the same as in the X-E2, so there's a fair chance that many users wouldn't care about it, anyway.
Face Detection can now be controlled with any Fn button or in the Quick Menu, and there's a dedicated View Mode button on the right side of the "hump". Like the X-E2, the X-T1 features separate buttons for AE-Lock and AF-Lock. AF-Lock finally works as expected: When you press it, the camera will take a new AF measurement and lock it (instead of simply locking the most recent AF measurement).
It's now also possible to change the exposure with the exposure compensation dial (± 3 EV) when AF-L or AE-L are active. However, exposure compensation is still useless in manual mode with active Auto-ISO.
The drive mode dial that's located directly under the ISO dial is a welcome addition to the feature set. By default, the Fn1 button at the front is in charge of changing drive mode sub-settings, such as picking a particular bracketing mode or a specific advanced filter mode. As far as bracketing is concerned, there's a new White Balance Bracketing option. Like ISO, film simulation and DR bracketing, it's a JPEG-only function. It simply produces three JPEGs with different white-balance settings.
Sadly, exposure bracketing hasn't been enhanced. It's still limited to 3 shots and ± 1 EV variation. I wonder how much longer it's going to take for Fuji to finally enhance this function to better facilitate HDR applications.
By default, the front command dial takes care of fine-tuning shutter speed, while the rear command dial is used to change the aperture of lenses that don't feature a built-in aperture ring. If you'd like to have things differently, you can reverse the function of both dials with a menu option. For the most part, both dials serve the same function, anyway, so you can use either of them. I found the rear dial harder to turn than the front dial, it's a little bit too stiff for my taste.
Predictive Hybrid Autofocus
Like the X-E2 and X100S, the X-T1 uses a hybrid autofocus system that combines traditional (and slow but very accurate) contrast detect autofocus (CDAF) with fast phase detect autofocus (PDAF). PDAF works with roughly 100,000 sensor pixels that are distributed throughout the central nine of the camera's 49 autofocus frames. However, this is where the similarities end, because the X-T1 offers predictive object tracking not only at 3 fps, but also at 8 fps: It calculates speed, acceleration and deceleration of an object in order to predict how far away it will be from the camera when the image is actually exposed. By pre-focusing on this calculated/predicted distance, the camera can compensate for shutter lag and similar delays.
Can the X-T1 follow a running child? Let's see… As usual, click on the images for larger views:
Wow, that actually works!
Hard to believe?
I'm with you.
That's why I have prepared a series of 15 consecutive 8 fps AF tracking shots. Just click on the overview below to see them all:
Want more? Here's the Maria running towards the camera at even closer range:
Not yet satisfied? Here's another series of 17 consecutive AF-C shots at 8 fps:
This…
…just…
…works:
Really!
All these shots were taken with the XF56mmF1.2 R lens, either wide open or at f/1.4. The girls loved it…
And so did I.
In order to achieve good AF tracking results, I set the camera's AF-C to "focus priority" (as opposed to "release priority"). Fuji's PDAF loves vertical lines (or horizontal ones in portrait format), so it's a bonus to offer the camera just that. Obviously, it's essential to focus with one of the central nine AF frames. Wouldn't it be nice to have a sensor that offered PDAF over the entire viewing area? Oh well, one can dream.
Back to reality: Even at 8 fps, the X-T1 still adapts the exposure between shots, but it won't change white balance or dynamic range settings. If you want to keep the exposure constant throughout a high-speed series, I recommend shooting in manual mode.
X-T1 and XF56mmF1.2 R
As mentioned in my First Look at the XF56mmF1.2 R lens, this "portrait lens" becomes a quite capable action lens on the Fujifilm X-T1. I have added several new images to the  XF56mm sample set, including a selection of full-size straight-out-of-camera JPEGs. Here's an appetizer…
I have also added more SOOC portrait shots, such as…
Key Differences Between X-T1 and X-E2
Fast, almost delay-free EVF with a constant 54 fps refresh rate even in low light
Large viewfinder with new, clutter-free user interface
Tiltable LCD display and flash sync terminal
Dust, water and freeze resistant (down to -10˚C)
DSLR-style shooting: Viewfinder is located on the optical axis
Great for left-eyed shooters: no display smearing, right eye can remain open and scan the surroundings of the scene
UHS-II SD card support for ultra-fast performance
Predictive tracking AF with speeds of up to 8 fps
Wireless remote tethering with Android and iOS
I'm confident that features like wifi tethering will eventually also appear in the X-E2 via a firmware upgrade. However, predictive AF may or may not be in store for the X-E2 due to hardware constraints on the memory and processing side.
Conclusion
The X-T1 has immediately become my favorite X-series camera. It's fast and flexible, and its real-time viewfinder combines the advantages of a WYSIWYG live-view with those of a delay-free optical finder. This is a mature camera for mature photographers who want the DSLR experience in a mirrorless system camera.
The X-T1 is also a convincing proof of concept, as it indicates that mirrorless system cameras can eventually replace DSLRs. Fujifilm has come a long way in the past two years, and with the X-T1, it certainly delivers.
What's left are rather minor firmware issues that Fuji can (and hopefully will) iron out throughout this year. The essentials are already in place: great image quality, versatile operation (including predictive autofocus), a robust and weather-resistant body (with at least three matching zooms to complement it) and plenty of manual controls. Plus, I hear that Adobe may soon have an announcement regarding improved X-series support.
By the way: According to Fujifilm, the "T" in the camera's name means "tough" and "trust".
What's Next?
I'm busy finishing my eBook on the X-E2 (and yes, I will also write one on the X-T1), but I may still chime-in with additional findings, like a writing speed comparison between UHS-I and UHS-II cards.
Have a nice remaining week!
PRE-ORDERS
X-T1 body only ($1,299): NORTH AMERICA: AmazonUS / BHphoto / Adorama / Pictureline / EUROPE: wexDE / wexUK / PCHstore /
X-T1 with 18-55 ($1,699): NORTH AMERICA: AmazonUS / BHphoto / Adorama / Pictureline / EUROPE: wexDE / wexUK / PCHstore /
X-T1 Vertical Battery Grip ($ 249,99): NORTH AMERICA: AmazonUS / BHphoto / Adorama / EUROPE: wexDE / wexUK /
For your convenience, here's a TOC with links to my previous X-PERT CORNER articles:
Rico Pfirstinger studied communications and has been working as journalist, publicist, and photographer since the mid-80s. He has written a number of books on topics as diverse as Adobe PageMaker and sled dogs, and produced a beautiful book of photographs titled Huskies in Action (German version). He has spent time working as the head of a department with the German Burda-Publishing Company and served as chief editor for a winter sports website. After eight years as a freelance film critic and entertainment writer in Los Angeles, Rico now lives in Germany and devotes his time to digital photography and compact camera systems. His book "Mastering the FUJIFILM X-Pro1" (Kindle Edition) (Apple iBook Store) (German version) is available on Amazon and offers a plethora of tips, secrets and background information on successfully using Fuji's X-Pro1 and X-E1 system cameras, lenses and key accessories.