LOVING X-TRANS: Landslide Victory for Fujifilm X-H2 with X-Trans V vs Bayer in Survey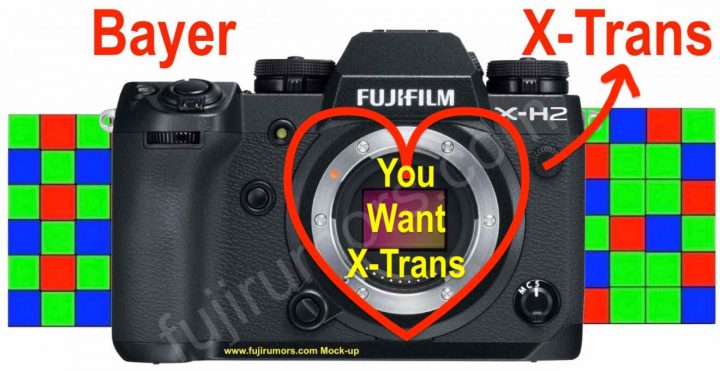 Recently we reported that the Fujifilm X-E4 will be the last X series camera featuring an X-Trans IV sensor, and that the next camera to come will be the Fujifilm X-H2 in 2022.
However, at this point in time we can't say if the Fujifilm X-H2 will feature an X-Trans sensor or an Bayer sensor.
To be honest, I have received an anonymous tip about it (thanks a lot!!!), but as usual here on FujiRumors we try to give it a quick double check first before sharing.
Until then, here are a few thoughts.
Personally I love the X-Trans sensor for its better performance at high ISO (better looking grain, less color noise), the sharpness boost it delivers and more.
But I am also not a blind fanboy and I am well aware that also the Bayer sensor has its significant strengths, such as 20 to 30%a lower power consumption which leads to less heat generation, meaning you can push the camera more in terms of recording times for example. Also with Bayer sensors, stuff like digital image stabilization and pixel shift is easier to achieve. And last but not least, Bayer is more affordable!
I have elaborated in depth the Pros and Cons of Bayer and X-Trans in this article.
So, while I am in the group of people, who hopes the Fujifilm X-H2 will get an X-Trans sensor, I would totally understand if Fujifilm would go Bayer instead.
The thing is this: reading the comments, I always thought I am in the minority when it comes to the X-Trans vs Bayer debate, meaning I read more comments of people who want to get rid of X-Trans than comments of those, who want to keep it.
But a recently survey I've launched here, shows it is completely the opposite.
Of the Fujifilm X shooters reading FujiRumors
51% want a Fujifilm X-H2 with X-Trans
24% want a Fujifilm X-H2 with Bayer
The rest of the readers are either fine with both options (18%) or have not yet formed a final opinion on this (7%).
That's a landslide victory for Fujifilm X-Trans!
And while I am with you guys on this one, if Fujifilm decided to go Bayer, it would probably not be the biggest of all drama, if they were able to take the most out of the advantages it offers, not in terms of image quality, were X-Trans is superior, but in terms of implementing new features such as digital image stabilization, pixel shift and more.
Finding out which sensor it will be, is my top priority (thanks again for the anonymous tip at this point).
The answer, my friends, will be shared hopefully sooner rather than later here on FujiRumors.
Join Our Owners Groups
Join Our Facebook Pages