FUJIFILM Fiscal Year 2020: Imaging Division Suffers COVID-19, Operating Income Down 51%, Revenue Down 14%, Strong GFX100/X100V/X-Pro3 Sales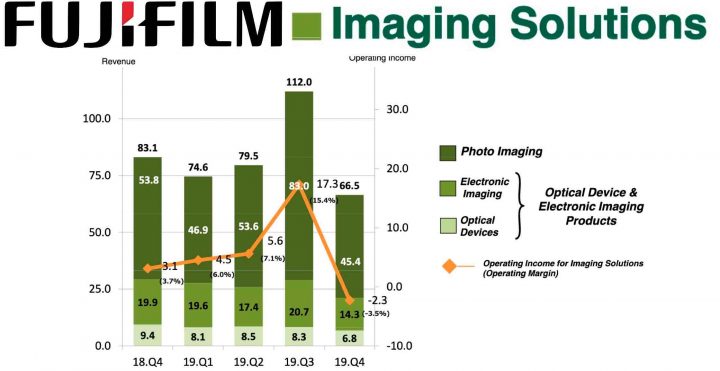 Fujifilm has now published its fiscal report for the fiscal year 2020 (1 April 2019 – 31 March 2020).
Fellow FR-reader Mistral has summarized it in French over at the French forum chassimages. In short:
Fujifilm as a whole is still doing well even if it has not reached the expected goals given the impact of the Covid-19 epidemic on its last quarter.
Imaging Solutions is the division with the lowest performance.
Fujifilm records a loss in the last quarter. The decline in sales of digital cameras and their lenses has accelerated throughout the year.
The only positive note: the Fujifilm GFX100 keeps up selling strong, as well as the Fujifilm X100V and Fujifilm X-Pro3 are mentioned positively in the various reports.
Fujifilm Report (Imaging Solution)
Imaging Solutions

In the Imaging Solutions segment, consolidated revenue amounted to ¥332.6 billion (down 14.0% from the previous fiscal year). Launching new products was partly postponed until the fiscal year ending March 2021 due to the spread of COVID-19 epidemic, causing our group factories in China to postpone the restart of operations by extending the spring holidays, and its operation rate to decline after the restart because of a difficulty in securing employees.

In addition, sales of consumer products such as the instax series of instant photo system and the X series of mirrorleass digital cameras were affected by the decrease in the number of customers at retail stores and the closure of stores.

Consolidated operating income amounted to ¥25.1 billion (down 51.0% from the previous fiscal year).

In the photo imaging business, revenue decreased due to a decline in demand for color paper and the spread of the COVID-19 pandemic. With regard to the instant photo systems that allow users to enjoy on-the-spot printing of photos, the instax mini 11, the latest version of an entry-level model particularly popular worldwide, was launched in March 2020 in Europe and the United States.

We will continue to provide better products and services to meet diversifying customer needs in a wide range of fields from analog to digital.

In the electronic imaging field of the optical device and electronic imaging business, sales decreased due to the decline in sales of entry-level digital cameras and the spread of the COVID-19 epidemic.

However, sales were strong for the FUJIFILM GFX 100, a mirrorless digital camera equipped with a large format sensor with the world's highest*1 102 million pixels launched in June 2019, and the FUJIFILM X100V, a high-end compact digital camera launched in February 2020.

In the optical device field, sales decreased mainly due to a decline in demand for various industrial use lenses including vehicle-mounted lenses, affected by the slowdown in the Chinese economy.

In March 2020, Fujifilm started the sales of two 4K-compatible broadcast lenses; one with the world's highest*2 zoom ratio of 125x, and the other incorporating the AF function for the first time in the world.

In addition, we are aiming for business growth by strengthening the development of new products such as the FUJIFILM PROJECTOR Z5000, a new projector that expands the freedom of projection with its two-axial rotatable lens, and the FUJIFILM SX800, a long range surveillance camera with a built-in lens.
*1 Among consumer-use mirrorless digital cameras as of May 18, 2020 according to Fujifilm data
*2 Among box-type broadcast lenses with zoom magnification of 50x or greater as of November
Join FujiRumors on Patreon, Facebook, Instagram, RSS-feed, Youtube, Flipboard and Twitter
Earnings Presentation Materials:
Earnings Release
Earnings Summary