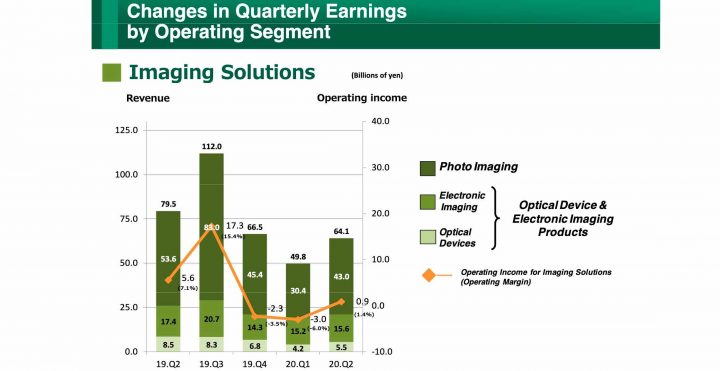 The latest Fujifilm financial results for the 2nd quarter 2021 (1 July 2020 to 30 September 2020) have been released.
Of course COVID-19 had a terrific impact, but there are some signs of recovery and hope.
First of all, after a couple of rather negative reports in the past, Instax seems to be growing strong again, which is, as we know, the real money machine of the imaging division.
But also sales of the Fujifilm X-T4 and X100V were "brisk" and there is a recovery trend in the when it comes to digital camera sales.
And yet, overall the numbers are still negative due to COVID-19, but Fujifilm writes:
Operating income was down, but if COVID-19 impacts are excluded, the segment secured income of a similar level to last year
Overall Fujifilm writes:
In the Imaging Solutions segment, consolidated revenue amounted to ¥113.9 billion (down 26.1% from the same period of the previous fiscal year). Sales of products and services in general decreased due to the impacts of stay-at-home orders, temporary closure of retailers, and a variety of events not being held, or being cancelled, in many cities worldwide due to the spread of the COVID-19 pandemic.

Consolidated operating loss amounted to ¥2.1 billion.

[…]

In the electronic imaging field of the optical device and electronic imaging business, temporary closure of retailers and fewer opportunities to take photos due to the COVID-19 pandemic resulted in a decline in revenue. The digital camera market as a whole faced severe challenges and overall demand declined far below the previous year's level. Nonetheless, sales increased steadily for FUJIFILM X100V, a high-end, compact digital camera launched in February 2020, and FUJIFILM X-T4, a mirrorless digital camera highly regarded for its high-speed AF and advanced video performance, launched in April 2020. In July 2020 we launched the FUJINON Lens GF30mmF3.5 R WR as a new interchangeable lens for the GFXSeries, providing a compact wide-angle prime lens that delivers ultra-high resolution. Then, in September 2020, we launched a new addition to our lineup of interchangeable lenses for the X Series in the form of the FUJINON Lens XF50mmF1.0 R WR, a large-diameter mid-telephoto prime lens, thereby enhancing the appeal of our products as systems through a generous lineup of lenses. Going forward, we will continue providing value-added products and revitalizing the market, along with sharing the joy of taking photos.

In the optical device field, revenue decreased, reflecting reduced sales of broadcast and cinema lenses due to cancellation of sports events, and suspended filming of television dramas and movies, as well as reduced sales of vehicle-mounted lenses due to lower demand in the automotive industry worldwide. Demand for lenses for security purposes held firm, and revenue for the second quarter was higher than the same period of the previous fiscal year. Aiming to achieve business growth in this field, we are expanding our business domains and developing innovative products that satisfy the diverse needs of the market, including developing and launching ultra-short-throw projectors and long-throw security cameras, and developing new multispectral camera systems.
Here are the various documents: