Fujifilm FY2020/3 Q1 Financial Results: Strong GFX100 and X-T30 Sales, but Severe Market Conditions Make Revenue Fall 15%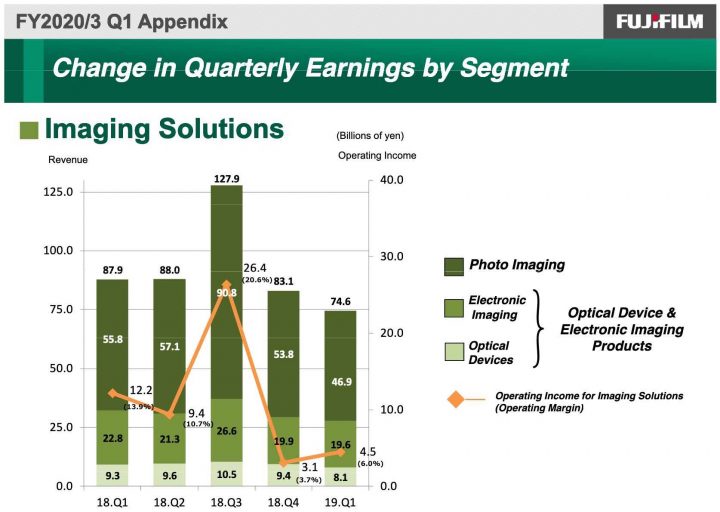 Fujifilm Financial Results
Fujifilm just published the results for the first quarter of fiscal year 2020 (April 1, 2019 – March 31, 2020).
Despite "strong sales" for Fujifilm GFX100 and X-T30, consolidated revenue was down 15.1% from the same period of the previous fiscal year.
Even Fujifilm's cashcow Instax struggled this time.
Detailed Report:
In the photo imaging business, revenue decreased due to such factors as declined sales of photographic paper, a drop-off period before new products' launches and inventory adjustments by some U.S. retailers for instant photo systems. We are aiming to expand sales mainly with the instax mini LiPlay, launched in June 2019, which has been well received for its high portability and "sound function" that records voices together with photos.
In the electronic imaging business, overall revenue decreased from the previous fiscal year due to a decline in the sales of entry-level mirrorless digital cameras under severe market conditions. However, the sales of middle- and high-end models were strong, including FUJIFILM X-T30, a compact and light-weight high-function mirrorless digital camera launched in March 2019, and FUJIFILM GFX100, a mirrorless digital camera equipped with a large format sensor with the world's highest 102 million pixels resolution, launched in June 2019.
In the optical device business, revenue decreased, reflecting a declined demand for industrial use lenses such as vehicle-mounted lenses due to an economic slowdown in China. Fujifilm is enhancing a lineup of new products for business growth such as FUJIFILM PROJECTOR Z5000, which combined optical technologies of FUJINON Lenses, and the Premista series of zoom lenses for cinema cameras supporting large format sensor.
Though revenue decreased and operating income also decreased due to such factors as a decline in revenue and expenses for new product development in the Imaging Solutions segment compared to the previous fiscal year, we will further enhance the sales by providing products which have competitive advantages utilizing unique technologies and by running effective promotions to achieve a performance goal.
Overall Conclusion:
"Revenue decreased due to such factors as declined sales of instant photo systems and mirrorless digital cameras. Operating income decreased due to the revenue decrease."
Resources: