Fujifilm USA offers 2 Year Warranty on Fujifilm GFX100 Affected by Vertical Grip Control Lock Issue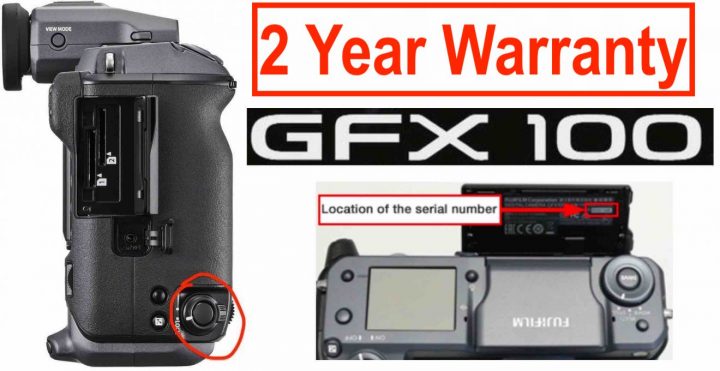 Fellow Fujifilm GFX100 shooter Marcello informed us at our Fujifilm GFX facebook group here, that Fujifilm USA is offering 2 years warranty on those Fujifilm GFX100 affected by the vertical grip control lock issue.
Marcello writes:
I got my GFX 100 yesterday, super excited, loving the ergonomics of the body. I don't think it's to big, honestly feels great in my hand. Unfortunately it's in the range of affected cameras so I will be sending it in to Fuji to get fixed. I spoke to Steve today at Fuji who is always awesome and said on top of a fast turn around time 2 days we receive a 2 year warranty.

He also said it can be sent in anytime within the first year! Which is good because I am shooting a one of a kind custom car on Monday.

I love Fuji service and the care they have for their customers.
The service is at no extra charge, of course. So if your GFX100 is affected, you get 2 years warranty.
Make sure to check out the serial number of your GFX100 to see if yours is included in this service.
Fujifilm Support Hotlines:
Camera Repair EAST: 1-800-659-3854
Press 33 for Parts
Press 34 for Repair
Camera Repair WEST: 1-800-326-0800
Press 3 for Parts and Repair 
Fujifilm GFX 100: B&H Photo, AmazonUS, Adorama, Focuscamera
Follow FujiRumors: Facebook, Flipboard, Instagram, RSS-feed, Youtube and Twitter
The GFX Community