Digital Camera Market Share 2020: Only Canon, Sony and Fujifilm Grow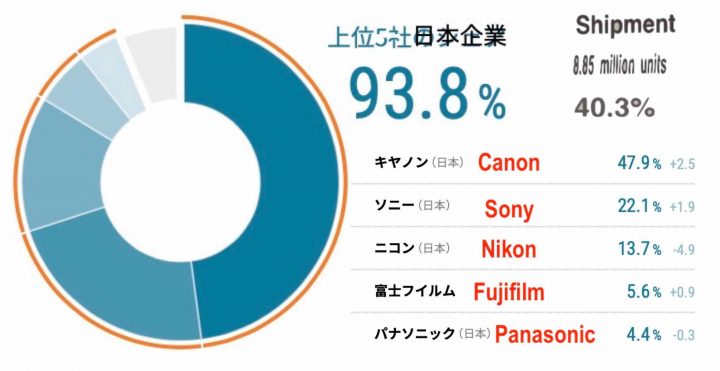 Every year, Techno System Research, a major marketing research company located in Japan, publishes the worldwide camera market share data.
And while the data is behind a (very expensive) paywall, the main chart is published by Nikkei and we've covered it in the past:
Now the data for 2020 has been released by Techno System Research.
So what changed between 2019 and 2020? Let's compare:
Canon 47.9% (+2.5%)
Sony 22.1% (+1.9%)
Nikon 13.7% (-4.9%)
Fujifilm 5.6% (+0.9%)
Panasonic 4.4% (-0.3%)
These top 5 camera companies took 93.8% of the global digital camera market.
Keep in mind that this is the overall digital camera market share (DSLR + Mirrorless + Point & Shoot). So no surprise to see Fujifilm behind Nikon. When it comes to mirrorless data only, until 2019 Fujifilm was clearly ahead of Nikon and on the third position after Sony and Canon.
The Winners
Well, the only three companies able to grain ground in 2020 were Canon, Sony and Fujifilm.
I already told you in early 2021 that I expect a market share increase in 2020, as in that year Fujifilm launched the following cameras:
Except for the Fujifilm X-T200, all other cameras where good to great sellers for Fujifilm.
The Losers
Nikon saw yet another substantial market share reduction, whereas Panasonic massive investment into full frame mirrorless seems still not to pay off as they keep losing market share, too.
I always told you that the Panasonic full frame experiment will show us if Fujifilm did well to skip full frame or not. Well, it looks like it was the right decision.
Also interesting:
In 2020, the number of units shipped was of 8.85 million compared to the 14.83 million units of 2019. Seen from this perspective, it was a tough year for every company.
And 2021
Usually its the X-series that sells strong and helps to gain market share.
But 2021 was a "bad" year for the X-Series, meaning we only got the Fujifilm X-E4. Don't get me wrong, a lovely camera, but not the type of camera that is easy to go mainstream.
So most of the hopes for 2021 rely on the Fujifilm GFX system.
The Fujifilm GFX100S, officially announced just a few hours after the birth of my son, has been a terrific success with record-breaking pre-orders.
And soon we will get the Fujifilm GFX50SII, an even more affordable medium format camera with IBIS!
Will this be enough to gain further market share, or do we have to wait for the Fujifilm X-H2 in 2022 to gain more of it?
Let me know what you guys predict will happen.
But so far, I am just happy to see Fujifilm navigating safely through a complicated 2020 and even being able to gain some market share. Although 2021 is also complicated for every company, due to the chip-shortage.
via nikkei
The Fastest Growing Fujifilm Group
Join Our Owners Groups
Join Our Facebook Pages