Digital Camera Market Share 2019: Canon is King, Fujifilm Stable 4th, Nikon is Falling, Olympus is Out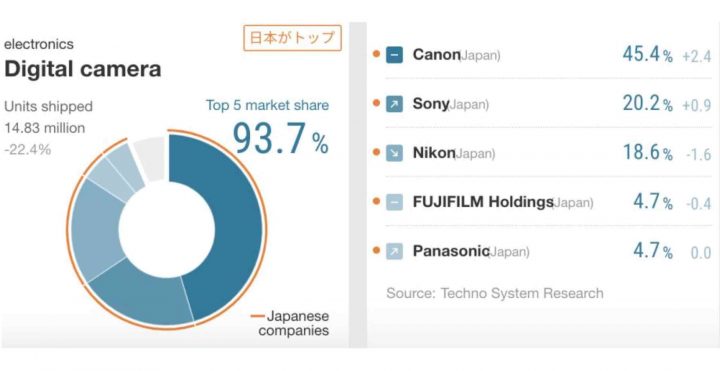 You might remember, how back in 2019 we reported Techno System Research data (a major marketing research company located in Japan) regarding the global mirrorless camera market share. We saw that Fujifilm was on an impressive 3rd position, very close to Canon. Check it out here.
Now Techno System Research has published the data regarding the digital camera market share (hence DSLR and Mirrorless combined). The data takes into account the 14.8 million cameras sold last year (2019).
As to expect, the ranking changes quite a bit compared to the mirrorless only data.
Canon: 45,4% (+2.4%)
Sony: 20.2% (+0.9%)
Nikon: 18.6% (-1.6%)
Fujifilm: 4.7% (-0.4%)
Panasonic: 4.7% (0.0%)
Nikon lost its Nr.2 position and sees the biggest market share loss of the top 5 companies. Olympus is out of the ranking, replaced on the 5th position by Panasonic. Sony dominates mirrorless, but DSLR sales are still high and keep Canon first.
And Fujifilm?
Well, Fujifilm stayed rather stable on the 4th position, with a 0.4% market share decrease. Not sure if we should rejoice, because they found their safe niche, or worry that they didn't gain market share.
Also interesting to note: the digital camera market saw a year-to-year decrease of about 20% in 2019 and also in 2018.
read here – Nikkei: "Japanese Camera Industry Strangles Itself. 88% Decline in 10 Years. On the Brink of Extinction, Unless…"
read here – Olympus Drops its Camera Business: Farewell to My First Mirrorless Love, and Could Oly-Shooters Find a New Love in Fujifilm (Like Me)?
FujiRumors is on: Patreon, Facebook, Instagram, RSS-feed, Youtube, Flipboard and Twitter
via Nikkei via digicame-info via digitalcameraworld