Nikkei: "Japanese Camera Industry Strangles Itself. 88% Decline in 10 Years. On the Brink of Extinction, Unless…"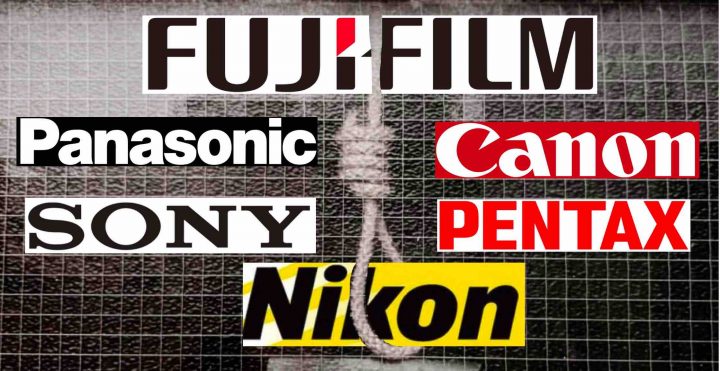 Triggered by recent failure of the Olympus imaging division (which FujiRumors dedicated an own – and very personal – article here), Nikkei deputy editor Masamichi Hoshi has published a rather dark overview over the current camera market situation and an even darker forecast.
The article starts by taking into account two rather obvious reasons, why the camera industry struggles, and that surely Japanese camera makers are not responsible for:
the rise of smartphones
COVID-19 (which lead to only 2.63 million shipments during the first four months of this year, down 44% from the same period last year)
The numbers of the decline are dramatic:
2010: a total of 121 million digital cameras shipped
2019: a total of 15 million digital cameras shipped
… this means there was an almost 88% decrease in 10 years only!
2020: a total of 2.63 million digital cameras shipped in the first 4 months
A special mention in regards of struggling companies goes to Nikon, which has photography as a core business (unlike Fujifilm), but also all other brands are having hard times.
Nikon's imaging unit, which has focused on digital cameras, finished the fiscal year that ended in March with an operating loss of 17.1 billion yen ($158.7 million), down from a profit of 22 billion yen the previous year. In November, the unit drafted a rebuilding plan focused on the "pro-hobby class," which consumes 3 million interchangeable lenses per year. It aims to cut 50 billion yen from its fiscal 2019 operating costs by the end of fiscal 2022. The cuts will come from a reorganization of production plants, a narrowing of products and a personnel reduction.

The digital camera operations of companies like Ricoh and Panasonic also continue to struggle. The operating profit at Canon's imaging system units fell by 48.2 billion yen in the year through December, a 62% drop the previous year.
But beyond smartphones and COVID-19, there is a third reason highlighted by Masamichi Hoshi, which is the one we want to focus on here today: excessive competition.
Here is what Masamichi Hoshi writes on Nikkei:
Smartphones are not the only reason Japanese camera makers, who had established an oligopoly nearly everywhere around the world, have come to this point. Japanese industry, which has a penchant for competing against its own products, can also blame itself.

"Digital camera companies intend to strangle their rivals through excessive competition, but in the end they'll strangle themselves,"

"It looks just like the personal computer industry," he later said of the digital camera sector. "A lot of manufacturers competing excessively."

"Why are Japanese makers now competing among themselves to cut prices?"
The results of excessive competition?
More manufacturers flooded into the market, resulting in annual price drops of 10% or more. Also, the product cycle shortened and models became obsolete at an ever faster pace. This kind of excessive competition is great for consumers, giving them a wider variety and lower prices. But it also reduces manufacturers' investment capacity.
So, it's a vicious circle, where, in order to survive the current digital camera war, camera companies have to be aggressive on the market, but at the same time it's a unsustainable business model in the long term, and hence more camera companies will inevitably fall.
A possible way out of this?
With the market shrinking at such speed, companies are at great risk of falling into a fixed-costs crisis. Some analysts believe the entire industry will collapse unless companies undertake major reforms, like splitting design and development from manufacturing, and consolidating production.
This is something Fujifilm already does with its entry level camera lineup, where manufacturing and development is split between Fujifilm and the Xacti corporation. But, as far as I know, that ain't working out all that well either.
In my opinion, the way out of this will be the most brutal of all: many camera manufacturers will fall, and only two or maybe three will survive, and with less player in the game, it will again become easier and less stressful to run a profitable business.
Will Fujifilm be among those, who will survive?
The Nikkei article does not mention Fujifilm at all, which might not be bad at all after all. In fact, what we know so far is that even in times of COVID-19, Fujifilm is the only brand, that didn't see a massive sales decrease (report here).
But surely it's very tough also for Fujifilm to survive in the market, as it is for everybody.
You can read the full article at asia.nikkei
Follow FujiRumors on Patreon, Facebook, Instagram, RSS-feed, Youtube, Flipboard and Twitter
Our Owners Groups
Our Facebook Pages