Did the Panasonic S1/R Fiasco Prove FUJIFILM Did Well to Skip Full Frame?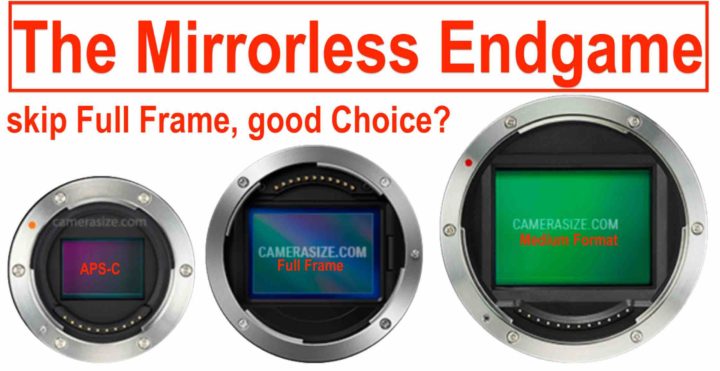 The Mirrorless Endgame
Some of you think that talking about "mirrorless endgame" or "mirrorless war" is a bit too dramatic. And yes, I actually agree with that, but also not!
I explain:
"War" or "Endgame" suggest an epic fight with violent ending. That will definitely not happen. At least not with all camera brands.
While Samsung joined the mirrorless market spectacularly with the Samsung NX1 and left just as spectacularly, by capitulating overnight, other brands will quietly disappear, reducing their products cycles, their innovations, and one day, silently, just stop it all.
The harsh truth is: in a camera market shrinking that fast, it is not plausible to think that everybody will continue grow and prosper.
So we are in the endgame now.
The good news for us customers is: companies lower their prices, beef up their cameras, race for innovation, cover us with firmware love, and fight for every single one of us.
We, the customers, win in any case ;).
About Skipping Full Frame
I am one of those, who was never able to figure out if Fujifilm's choice to skip full frame war right or wrong. And I am still not 100% sure.
But something happened in the last few months, that made me think, that maybe Fujifilm made the right choice.
It's the Panasonic S1/R!
I hear that Panasonic's attempt to join the crowded full frame market is failing.
It's a rumor, so take it with a grain of salt. But I do not see (and never saw) any Panasonic S1/R in the top 100 AmazonUS mirrorless camera ranking, so maybe there is some truth into what I hear.
And why is the Panasonic S1/R struggling, despite being an excellent camera and having huge names like Leica and Sigma in their alliance?
I think I know why: bad timing!
Timing is a crucial factor to run a successful business, and as the Panasonic S1/R could show, that it might be simply late now to join the crowded FF market.
Seen from this perspective, the Panasonic S1R experiment could have delivered Fujifilm the necessary feedback to confirm their choice: there is no space in the FF market anymore.
Fujifilm has already established itself as leader in APS-C, and is now happily expanding in the not so competitive medium format market.
In the long run, the goal is to strangle full frame with better image quality (GFX series) and faster hybrid cameras (X series), basically hitting full frame from two sides, instead of a frontal attack.
So maybe Fujifilm did it right, maybe not. Time will tell. And vote the survey down below to let us know what you think.

Loading ...
Next on the Fuji list is the Fujifilm GFX100, which surely won't destroy half of the camera universe as in the fan-made trailer below, but it is a very interesting piece of technology that is going to be announced on May 23, and in some aspects also revolutionary, alone for the medium format IBIS (a real challenge to develop) and 4K medium format video.
So I am super-pumped and ready to deliver you an epic Fujifilm GFX100 live blogging.
Stick around… we are going to have a fantastic time here on FujiRumors very soon!
read here – A LOVE Letter to FUJIFILM in Times of Mirrorless Wars
Follow FujiRumors on Facebook, Flipboard, Youtube, Instagram, RSS-feed and Twitter
Our Owners Groups
Our Facebook Pages