A LOVE Letter to FUJIFILM in Times of Mirrorless Wars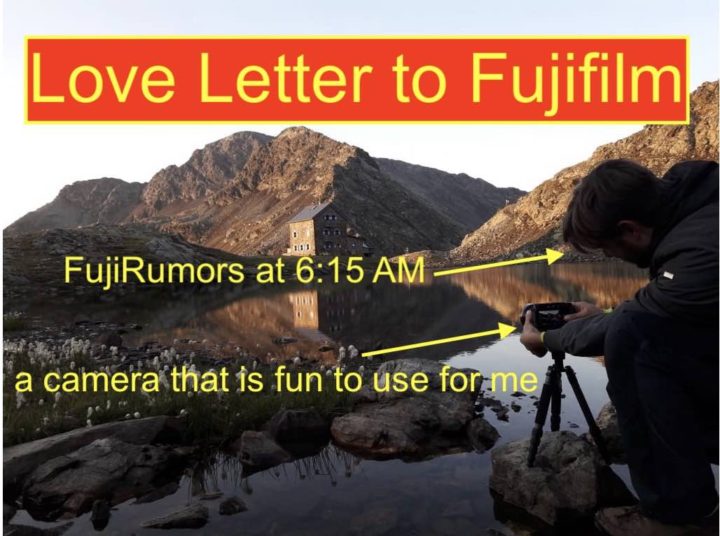 A Love Letter to Fujifilm in Times or Mirrorless Wars

The video above has been shared by Fujifilm UK on their youtube channel here for the World Photography Day 2018.
I really like it, because none of the photographers interviewed mentions for a single time the word "Fujifilm" or "megapixel". They "just" tell us what photography means to them.
Just the fact that Fujifilm shares such videos on their channels, denotes a photographic culture, that, so they tell me, is lacking in some other brands.
Let's Spread Love
In times of mirrorless wars, it might be a good idea to spread some love for a company, Fujifilm, that was able to flare up my passion for photography again.
Fujifilm has made fantastic achievements over the years.
They turned a deficit business (only 700,000 X-series cameras sold in until 2013), into a profitable one by crafting beautiful cameras that are fun to use and they delivered a range of lenses that shine in terms of image quality.
And yet… Fujifilm is still not mainstream.
But one thing are the sale numbers. Another thing is the feeling, and for me personally, shooting with Fujifilm still gives me the same fun and excitement of the very first days, when I wrote here, that I finally found a technology that meets my passion, because Fujifilm combines top-notch image quality with vintage design and controls.
So, after a few years of unenthusiastic straying through various systems, Fujifilm connected me again with the most essential part of photography: the fun was back and I felt inspired like never before.
So what about the mirrorless war?
Well, I have no idea how it will end for Fujifilm.
I guess that…
in a frenetic and adrenaline-addicted market, that is often looking for (and buying into) the next big "WOW"
a market, where frames per second and megapixel can count more than having fun with a tool that feels natural in your hands and inspires you to go out and refine your skills by practicing photography on the field rather than delegate your photographic progress to a growing list of specs
… in such a market, Fujifilm might not have an easy game to play, since running after the latest and greatest specs is not their best discipline, but rather caring about the details and the photographic experience.
From my side, my love for Fujifilm will remain, because Fujifilm combines quality, passion, freedom, fun, inspiration and lightness.
Am I too romantic?
Maybe yes… but I am sure I am not the only one, who gets more excited by things that do not appear on specs sheets.
Read for example what one of the best journalists of the last century, Tiziano Terzani [wonderful interview here], wrote about his [shoplink 38356 ebay]Leica M3[/shoplink] in his book "Das Ende ist mein Anfang" (The End is My Beginning)",
"My life changed on the 30th of April 1975 [Note: last day of the Vietnam War], because on that day – when Americans flew from the roofs of Saigon – a skilled Vietnamese thief was able to steal a [shoplink 38356 ebay]Leica M3[/shoplink] of an American. I met him at the market of Saigon a few days later and bought that camera. Wonderful. Simple. For 100 Dollar! It became the camera of my life. […]
The nice thing of that camera is, that it is very easy to load the film, that's very important. […] You keep it around your neck, turn, open, insert film, close and – trum-pum! It's ready to use. Easy. And once you selected shutter speed, aperture, black & white, 400 ASA, you take the picture. You simply cannot do anything wrong!
And then there was an almost erotic aspect, I mean, you put this camera for example at 1/125 and when you take the picture it makes a "cloc-cloc" that is such a joy to hear!"
Tiziano could easily be an X shooter today. I can see him lifting the ISO dial of his X-Pro2, turning the aperture ring on his lens, setting his shutter speed, Acros, frame, and "cloc-cloc"… such a joy.
So… that's it. You suffered enough ;)
And don't be scared: "mirrorless war" is not so dramatic as it sounds. It's just another way to say that interesting times are ahead of us.
I wish you a GREAT Sunday,

Facebook, RSS-feed, Instagram, Youtube and Twitter
ANTI SHITSTORM NOTES
I am a true review-holic and can read and watch hundreds of reviews before I make a purchase
I like lots of youtube photography channels, subscribed to them and share them on FR
I can spend hours pixel peeping
I really can get excited by specs :)
But…
as the little prince says "the essential is invisible to the eyes". And for me, Fujifilm connects me with the most essential part of photography: fun, passion, inspiration and creativity
what is written here is called "my personal opinion". This means that your opinion is just as valid as mine, even if you think opposite than me