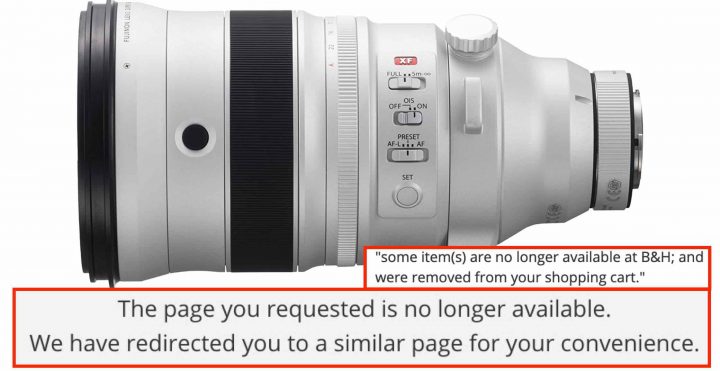 Fujinon XF200mmF2 – Discounted but Not Discontinued
Ok, let me set something right.
BHphoto has completely removed the Fujinon XF200mmF2 R LM WR from their website. You'll be redirected to a page that says: "The page your requested is no longer available. We have redirected you to a simlar page for your convenience." I tried to check a google cached version of the page, and when I add the XF200mmF2 to the cart, it then tells me "some item(s) are no longer available at B&H".
The situation is not much better at other stores. AmazonUS says here "Currently unavailable. We don't know when or if this item will be back in stock" and Adorama says here that it is "Temporarily On Backorder".
According to a FR-reader, BHphoto is sending out emails telling customers that the XF200mmF2 is discontinued:
B & H has sent me an email saying that the fuji xf 200 mm f2 has been discontinued and they no longer carry it.
So what is happening? Is it really discontinued?
I did investigated this, and I can 100% safely say that the lens is not at all discontinued. So I do not know why BHphoto is not listing the lens anymore.
What I know is that given the worldwide $/€ 2K discount on the XF200mmF2, as to expect, the lens sold out almost everywhere. And I've warned you already back in May that such a discount is ridiculous for a lens that was already short on stock before this epic deal.
Now the inevitable happened: it's out of stock basically everywhere and who knows when Fujifilm will be able to ship current orders.
So, if you are interested in this lens, place your order. You'll get it at some point. Fujifilm is still manufacturing it and will for a long time. But you better arm yourself with patience.
The XF200mmF2 Problem
The Fujinon XF200mmF2 is arguably one of the very best lenses Fujifilm ever made.
As we reported here, when Fujifilm designed it, they didn't care about size and price. All they wanted to achieve, was the best image quality and a fast autofocus.
But Fujifilm managers told us that it did not sell well. In fact, given the struggles the XF200mmF2 faced on the market, Fujifilm is wondering if it makes any sense at all to continue to develop and manufacture long prime lenses, that will just result in a loss of money for Fujifilm.
My guess is that people overall tend to prefer zoom lenses that cover that 200mm range, and there are quite some of them in the Fujifilm lineup (and more will come in future).
Sure, none of them is optically on par with the close to perfect Fujinon XF200mmF2, but they are all very decent lenses anyway and deliver an image quality that will be totally satisfactory for the vast majority of Fujifilm X shooters. And they all come for a significantly more affordable price tag.
What About the XF300mmF4 and XF500mmF5.6?
Speaking of long primes…
Back in March 2020, we reported about two Fujinon XF patents showing a Fujinon XF 300mmF4 and Fujinon XF500mmF5.6.
And although I am aware that some folks gave it as 110% certain that those lenses will come in 2021, we warned you in January 2021 that those lenses won't come in 2021. And quite frankly I have no idea if they will ever come.
We invite you to check out or latest and most updated 2021/2022 rumored Fujifilm products timeline to see what is coming (and what not).
The Future Needs…
So what will the future bring?
Well, you might remember how back in 2019, Fujifilm launched a survey on which lenses we'd like to receive in future.
FujiRumors took 1:1 the lens suggestions Fujifilm made and made this poll out of it that saw 20,000+ people voting on it.
Guess what?
All the long telephoto prime lenses ended up at the very bottom of the ranking, showing that there is simply not enough interest for such lenses.
My take?
Well, I think the XF200mmF2 is maybe not long enough (although with the 1.4x TC it is basically an XF300mmF2.8 lens).
What  I believe could be worth Fuji's R&D and become much more successful is a Fujinon XF400mmF4 lens. And with 1.4x TC you'd have a XF560mmF5.6 lens. That lens, I believe, could guarantee Fujifilm decent sales.
So, let's hope Fujifilm won't give up on telephoto prime lenses. They are needed. For a niche, sure, but definitely needed.
GFX Gear
X Gear