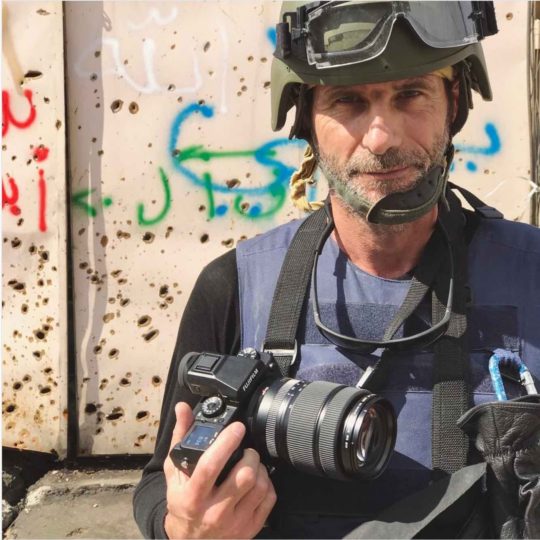 Fujifilm GFX 50s for Photojournalism
When Fujifilm developed the Fujifilm GFX 50s, they had the following target in mind: professional photographers, who shoot fashion, commercials, portraits (in studio or outdoor), landscape and architecture.
But I remember a Fujifilm Manager, who said that, once they started the "GFX challanges series" and the camera was given to selected photographers for beta testing, the feedback was so good, that they started to believe the Fujifilm GFX 50s might also be quite good for other photographic genres, such as street photography… and apparently also photojournalism.
Eric Bouvet
Long time FR-readers will remember, how I mentioned the first time Eric Bouvet, when he covered the war in the Ukraine with his X-T1 and X-Pro1. Well, he's right now in Mosul, Iraq, and this time he documents everything with his Fujifilm GFX 50s.
First of all, I wish Eric all the best while documenting the war in Mosul and to have soon a safe flight back home.
And once back, we really look forward to his images, which will for sure enrich an already stunning portfolio that you can check out at his website here. We are first of all curious to see the stories he will bring home and share with us… and also to see how the Fujifilm GFX 50s performed in the arguably most challenging of all environments.
Eric is sharing the first images and videos from Mosul taken with his GFX on his instagram account. Make sure to check it out here. WARNING: It's a war, and Eric is right in there. So you might see images and videos that could hurt your sensibility.
And feel free to join & enjoy the Fujifilm GFX facebook group. We are more than 10,200 right now. There is also a Fujifilm GFX facebook page, with news and rumors tailored to the GFX. You won't miss a single GFX tidbit by following it.
Fujifilm GFX 50s: USA BHphoto, Adorama, AmazonUS
I will leave you with a few images and impression from the Fujifilm GFX facebook group.
Fujifilm GFX Images
Sebastian Lee shared here:  The 32-64 wasn't quite wide enough to get the composition I wanted so had to shoot a pano. Didn't go crazy, came out to right at 12,096×7585 though my 5K iMac I think was starting to melt processing the pano haha. Eight 1 second exposures with lots of overlap. Also if anyone is interested, you can follow me on Instagram: www.instagram.com/sebimagery/