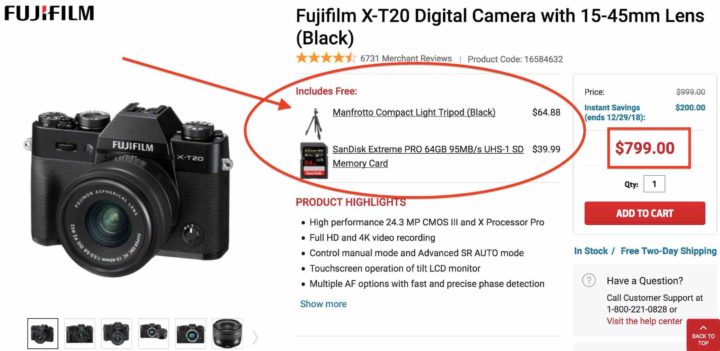 Fujifilm Special Deals
If you think the huge official Fujifilm X and GFX savings are not enough, then make sure to check out the various stores, since in some cases they offer free accessories along with the discounted Fuji gear.
FocusCamera
FocusCamera offers a free Manfrotto compact light tripod and a SandDisk Extreme Pro 64GB on top of the camera deals listed below:
BHphoto, Adorama And Co
BHphoto has free accessories that come with almost every camera currently on sale.
Mostly they offer a SanDisk card (not PRO) and a Ruggard Hunter 25 DSLR Holster Bag. But you can also find bundles that include free third party spare batteries, such as on the Fujifilm X-H1 here.
Adorama also offers free bags, cleaning kit, SD-card bundles.
Down below the full list of discounted gear. Click and compare the various stores and see which accessories bundle you prefer.
Fujifilm GFX 50R / 50S
GFX 50R + GF63mm (save $1,000): BHphoto, Adorama, AmazonUS, FocusCamera
GFX 50R + GF45mm (save $1,000): BHphoto, Adorama, AmazonUS, FocusCamera
GFX 50R + GF32-64mm (save $800): BHphoto, Adorama, AmazonUS, FocusCamera
GFX 50S (save $1,000): BHphoto, Adorama, AmazonUS
Fujinon GF Lenses
GF 23mm (save $620): BHphoto, AmazonUS, Adorama, Focuscamera
GF 45mm (save $300): BHphoto, Adorama, AmazonUS, Focuscamera
GF 63mm (save $350): BHphoto, Adorama, AmazonUS, Focuscamera
GF 110mm (save $660): BHphoto, AmazonUS, Adorama, Focuscamera
GF 120mm (save $640): BHphoto, Adorama, AmazonUS, Focuscamera
GF 250mm (save 780): BHphoto, Adorama, AmazonUS
GF 32-64mm (save $550): BHphoto, Adorama, AmazonUS, Focuscamera
Fujifilm X Cameras
X-T3 + v. grip (save $130): BHphoto, AmazonUS, Adorama, Focuscamera
X-T3 + 18-55 + v. grip (save $130): BHphoto, AmazonUS, Adorama, Focuscamera
X-H1 (save $250): BHphoto, AmazonUS, Adorama, Focuscamera
X-H1 + v. grip (save $250): BHphoto, AmazonUS, Adorama, Focuscamera
X-T2 (save $500): BHphoto, AmazonUS, Adorama, Focuscamera
X-T2 + 18-55 (save $400): BHphoto, AmazonUS, Adorama, Focuscamera
X-E3 (save $100): BHphoto, AmazonUS, Adorama, Focuscamera
X-E3 + XF23mmF2 (save $100): BHphoto, AmazonUS, Adorama, Focuscamera
X-E3 + XF18-55 (save $200): BHphoto, AmazonUS, Adorama, Focuscamera
X-T100 (save $100): BHphoto, AmazonUS, Adorama, Focuscamera
X-T100 + XC15-45 (save $100): BHphoto, AmazonUS, Adorama, Focuscamera
X-T100 + XC50-230 (save $100): BHphoto, AmazonUS, Adorama, Focuscamera
X-T20 (save $200): BHphoto, Adorama, AmazonUS, FocusCamera
X-T20 + 18-55 (save $200): BHphoto, Adorama, AmazonUS, FocusCamera
X-T20 + 16-50 (save $200): BHphoto, Adorama, AmazonUS, FocusCamera
X-T20 + 15-45 (save $200): BHphoto, Adorama, AmazonUS, FocusCamera
X-Pro2 black body (save $200): BHphoto, AmazonUS, Adorama, FocusCamera
X-Pro2 + XF23/2 (save $250): BHphoto, AmazonUS, Adorama, FocusCamera
X-Pro2 + XF35/2 (save $250): BHphoto, AmazonUS, Adorama, FocusCamera
X-Pro2 + XF50/2 (save $250): BHphoto, AmazonUS, Adorama, FocusCamera
X-Pro2 graphite + 23/2 or 35/2 or 50/2 (save $200): BHphoto, AmazonUS, Adorama , FocusCamera
X-A3 + 15-45 (save $50): BHphoto, Adorama, AmazonUS, Focuscamera
X100F silver/black (save $100): BHphoto, Adorama, AmazonUS, Focuscamera
X100F brown (save $100): BHphoto, Adorama, AmazonUS, Focuscamera
Fujinon Prime Lenses
XF 14mmF2.8 (save $150): BHphoto, AmazonUS, Adorama, FocusCamera
XF 16mmF1.4 WR (save $150): BHphoto, AmazonUS, Adorama
XF 18mmF2 (save $50): BHphoto, AmazonUS, Adorama, FocusCamera
XF 23mmF1.4 (save $100): BHphoto, AmazonUS, Adorama, FocusCamera
XF 23mmF2 WR (save $50): BHphoto, Adorama, AmazonUS
XF 27mmF2.8 (save $50): BHphoto, AmazonUS, Adorama, FocusCamera
XF 35mmF1.4 (save $50): BHphoto, AmazonUS, Adorama, FocusCamera
XF 35mmF2 WR (save $50): BHphoto, AmazonUS, Adorama, FocusCamera
XF 50mmF2 WR (save $50): BHphoto, Adorama, AmazonUS
XF 56mmF1.2 APD (save $150): BHphoto, AmazonUS, Adorama, FocusCamera
XF 56mmF1.2 (save $100): BHphoto, AmazonUS, Adorama, FocusCamera
XF 60mmF2.4 (save $50): BHphoto, AmazonUS, Adorama, FocusCamera
XF 80mmF2.8 OIS WR (save $150): BHphoto, AmazonUS, Adorama, FocusCamera
XF 90mmF2 WR (save $150): BHphoto, AmazonUS, Adorama, FocusCamera
Fujinon Zoom Lenses
XF 10-24mmF4 OIS (save $150): BHphoto, AmazonUS, Adorama, FocusCamera
XF 16-55mmF2.8 WR (save $200): BHphoto, AmazonUS, Adorama, FocusCamera
XF 18-55mmF2.8-4 OIS (save $100): BHphoto, AmazonUS, Adorama, FocusCamera
XF 18-135mmF3.5-5.6 OIS WR (save $100): BHphoto, AmazonUS, Adorama, FocusCamera
XF 50-140mmF2.8 OIS WR with Teleconverters option (save $200): BHphoto, AmazonUS, Adorama, FocusCamera
XF 55-200mmF3.5-4.8 OIS (save $100): BHphoto, AmazonUS, Adorama, FocusCamera
XF 100-400mmF4.5-5.6 OIS WR with Teleconverters option (save $300): BHphoto, AmazonUS, Adorama
Official Fujifilm Recommended Battery Chargers