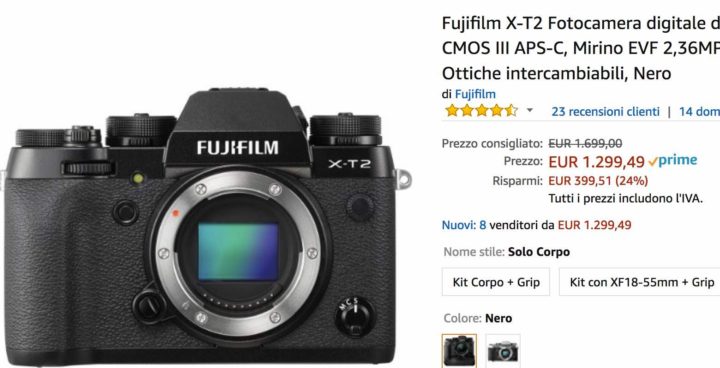 Super X-T2 Deal
You can now find the Fujifilm X-T2 with an €400 price drop at AmazonITA (shipped and sold by Amazon all over Europe. Deal reserved for AmazonPrime members. First 30 days of Prime are free, you can then unsubscribe anytime or pay €20 a year)
I remind you that back on September 8 here, AmazonITA was selling the X-T2 with an €325 price drop.
The X-T2 currently still costs €1,699 at AmazonDE and Calumentphoto DE, €1,609 at AmazonFR and €1,517 at AmazonESP.
Australian Fujifilm X and GFX Deals
Fuji X and GFX deals started also in Australia, and they are in line with the ones in other countries worldwide. You can save up to $300 on X gear and $1,300 on GFX. The deals are available at CameraPro here. Full terms and conditions here at Fujifilm.
Full List of USA Fujii Deals (up to $1,000 savings)