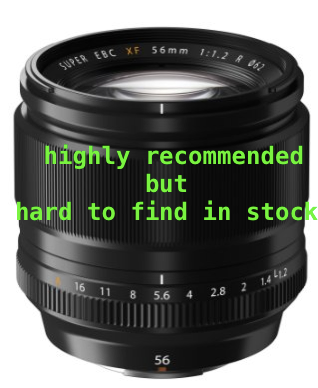 IN STOCK AT: Pictureline / AmazonUS (via third party and more expensive) / DigitalRev
pre-order at:  BHphoto / Adorama / eBay
_ _ _
The Fujinon
The XF 56mm review of photozone can be read here.
"The rendering of the bokeh is impressive thanks to a smooth blur and good out-of-focus highlights. There is, of course, some bokeh fringing but that's true for the vast majority of lenses in this aperture class.

The build quality of the XF 56mm f/1.2 R is very high and as such in line with the other Fujinon XF lenses. It is mostly made of metal and precisely assembled although we miss a weather sealing which should be standard at this price point. The AF is pretty fast on the X-T1 although the combo is still stays a little short of what we can experience on similar DSLRs-based combos.

As already mention, the Fujinon is a bit pricey in absolute terms but high speed simply comes at a price. However, when looking at the results, it is a fair offering and simply also an obvious choice for Fujifilm users looking for an ultra-fast lens for street or portrait photography. Therefore highly recommended!"
_ _ _
The Zeiss
The Carl Zeiss Touit Makro Planar 2.8/50mm T* Review of photographblog can be read here.
"The Carl Zeiss Touit Makro Planar 2.8/50mm T* is the only lens in the Fujifilm X-Mount and Sony E-Mount ranges that offers true 1:1 maximum reproduction, so it's something of an essential purchase if you absolutely require that feature, especially as it delivers superb image quality with lovely bokeh.

The Carl Zeiss Touit 50mm lens is remarkably sharp in both the image centre and at the edges throughout almost the entire aperture range. The fast maximum aperture of f/2.8 makes it easy to creatively throw the background out of focus, with the nine-blade iris diaphragm achieving some lovely bokeh effects for such a wide-angle lens. Vignetting is very well-controlled, chromatic aberrations are hard to find, and there's some very slight pincushion distortion, but certainly nothing to worry about."
Pre-order at Adorama and BHphoto