Latest FUJIFILM Earnings Report Says X-series, Lenses and Fujifilm GFX 50s Sell Strong. Imaging Solution "Substantial Increase in Income"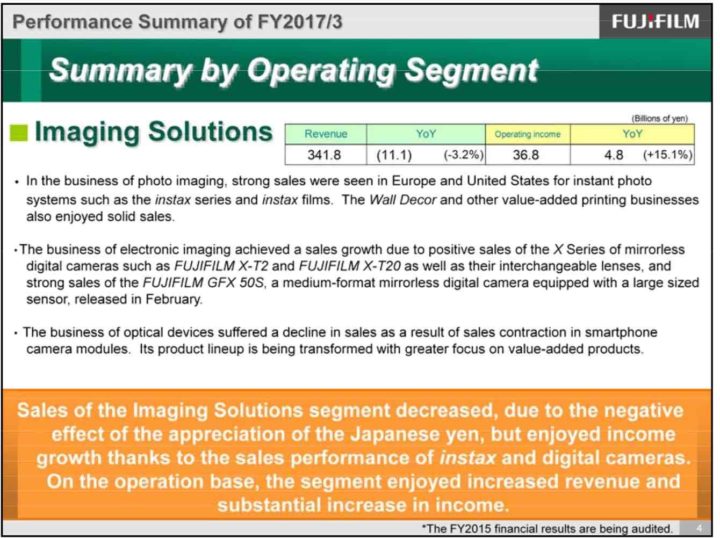 The full Fujifilm earnings report is finally out. And there are good news for X-series as well as GFX lovers. Here some excerpts.
"The business of electronic imaging achieved a sales growth due to positive sales of the X Series of mirrorless digital cameras such as FUJIFILM X-T2 and FUJIFILM X-T20 as well as their interchangeable lenses, and strong sales of the FUJIFILM GFX 50S, a medium-format mirrorless digital camera equipped with a large sized sensor, released in February."
The sales of the Imaging Solutions segment decreased, due to the negative effect of the appreciation of the Japanese yen in the foreign exchange market However its income grew thanks to the sales expansion of instant photo systems and digital cameras which are high-end models as well as improved profitability in various business categories. On the operation base, the segment enjoyed increased sales and substantial increase in income."
In another report, they also mention the Fujifilm X100F and X-A3, as well as the MK Cine lenses
"In the electronic imaging field of the optical device and electronic imaging business, overall sales increased due to strong sales in FUJIFILM X-T2 launched in September 2016, FUJIFILM X-A3 and interchangeable lenses.
In addition, FUJIFILM GFX 50S, a medium format mirrorless digital camera, adopting a big sensor (43.8mm by 32.9mm) which was released in February 2017, together with FUJIFILM X100F and FUJIFILM X-T20 as the latest models of X Series which enables the prominent photograph image quality through its unique technology in re-generating original colors, led the sales increase.
In the optical device field, though the sales of camera modules for use in smartphones decreased, the Group is seeking to expand global market share of the cinema lenses with FUJINON MK18-55mm T2.9 , relesased in Februaly 2017, which has gained high reputation from the market for its advanced optical performance, ultra-compact and lightweight design, and excellent cost performance."
The latest accounting errors do not seem to have a particulary huge negative impact, as we already reported earlier today here.
Fujifilm GFX 50s: USA BHphoto, Adorama, AmazonUS EU: CalumetDE, WexUK, ParkCamerasUK, PCHstore AUS: CameraPro
Join the 13,000+ strong GFX facebook group, and incredibely helpful community creating infinite GFX content. For fast, reliable, and 100% GFX news and rumors follow the Fujifilm GFX facebook page.
Fujifilm X-T20: USA: BHphoto, Adorama, AmazonUS EU: AmazonDE, AmazonUK, WexUK, PCH AUS: CameraPro
Fujifilm X-T2: USA: BHphoto, AmazonUS, Adorama, Focuscamera, BestBuy CANADA: AmazonCA EUROPE: AmazonDE, Calumentphoto DE, AmazonUK, AmazonITA, AmazonFR, AmazonESP, PCHstore, WexUK AUSTRALIA: CameraPro
Fujifilm X100F: USA: BHphoto, Adorama, AmazonUS EU: AmazonDE, AmazonUK, WexUK, PCH AUS: CameraPro