Overpriced Fujinon Lenses at Launch? Fujinon XF 8-16mm (save $500) and XF 200mm (save $1,000) and More XF Lens Deals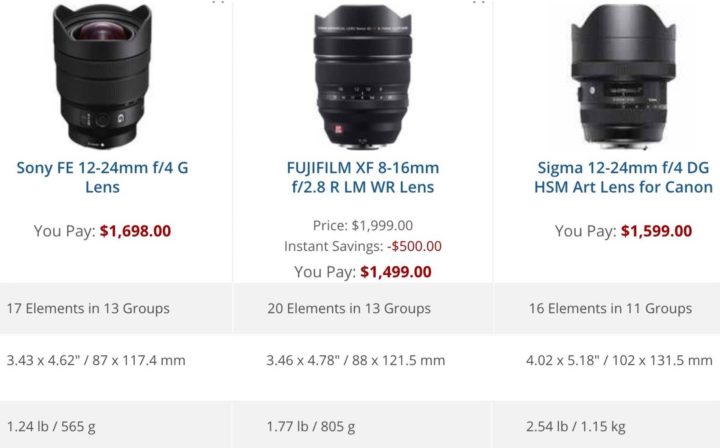 Fujifilm XF Pricing
We recently compared here the Fujinon XF8-16mmF1.8 and XF 200mm F2 to equivalent full frame DSLR lenses, and we saw that the Fujinon lenses are generally cheaper.
However, the Fujinon XF 8-16mm f/2.8 LM WR was still more expensive than the Sony FE 12-24mm f/4 or the Sigma 12-24mm f/4. You can check out the specs comparison here.
With the latest rebate, though, the Fujinon XF 8-16mm f/2.8 price has been reduced by 25%, and it now beats in terms of pricing also the other full frame lenses.
So the question arose amongst the FujiRumors community: was the Fujifilm XF 8-16mm f/2.8 overpriced at launch?
Difficult to say, since the price is justified or not also depending on factors you can't really read on specs papers, like image quality, build quality and more.
At the bottom of this article you will find a poll, where you can let us know what you think.
Regarding the Fujinon XF200mm f/2 LM OIS WR, (which is now $1,000 off), I believe the XF200mmF2 launch price was not overpriced, considering how it performs and that it comes with 1.4x teleconverter. But let us know in the poll below.

Loading ...
_ _ _

Loading ...
Prime Lenses
Zoom Lenses
Camera Deals
Fujifilm Camera Deals
Fujinon Lens Deals
Third Party Lens Deals for Fuji X
Used Fujifilm Gear
Official Fujifilm Recommended Accessories
SD-Cards
Power Banks
Accessories and Apple Deals