Notice and Apology to Customers using Fujifilm X-T5, X-T4, X-T3, X-S10, X-T30II and X-T30 – Do NOT Use APP to Update Firmware!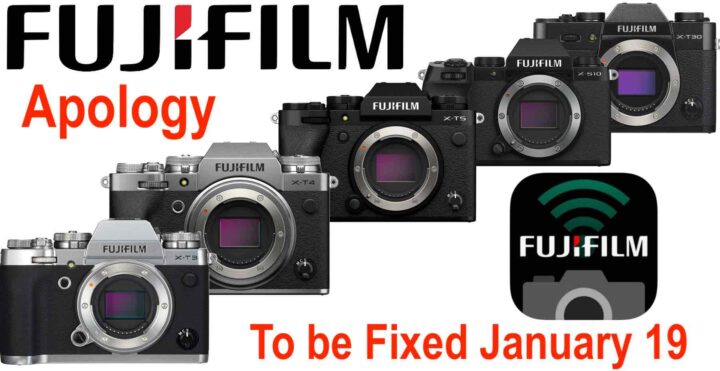 Press Release
To our valued customers
Thank you for your loyalty to Fujifilm products.
We found that the following models of the cameras rarely froze right after the completion of the firmware update with the latest version using a smartphone (tablet) in which Camera Remote application software was installed.
FUJIFILM X-T5 was released on Mid November 2022 and the latest firmware for other five models below were released on Nov. 29, 2022 on our firmware download site for digital cameras.
【Applicable models and firmware versions】
FUJIFILM X-T5: Ver.1.00 and Ver.1.01
FUJIFILM X-T4: Ver.1.70
FUJIFILM X-T3: Ver.4.50
FUJIFILM X-S10: Ver.2.60 and Ver.2.61
FUJIFILM X-T30 II: Ver.1.20
FUJIFILM X-T30: Ver.1.50
In response to the above issue, we will release the revised firmware on the firmware download page on Jan. 19, 2023.
Therefore, we apologize for the inconvenience, but we would like to ask you to update the revised firmware.
When updating the firmware with the revised version, please be sure to update the firmware using an SD card according to steps below.
(This phenomenon does not occur when updating firmware using an SD card.)
Detail of firmware update steps
100% Fuji Colors Power
Rumors and Discussions