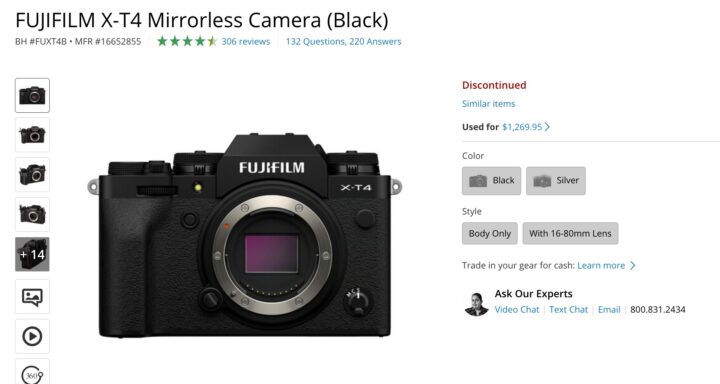 Fellow FR-readers saw it coming already.
The Fujifilm X-T4 had been removed from the Japanese Fujifilm store back in September 2022 and also stores overseas started to mark it as discontinued.
Well, now it's also time for BHphoto & Co to remove the Fujifilm X-T4 from their store, hence it's now marked as discontinued also there.
The Fujifilm X-T4 joins lots of other Fujifilm cameras that are already marked as discontinued, such as the Fujifilm X-E4 (we reported back in March here), the X-T30II (we reported here), the Fujifilm X-Pro3 (we reported here), as well as the Fujifilm GFX50R and the Fujifilm GFX100.
But, trust me guys, don't expect a Fujifilm X-Pro4, Fujifilm X-T40, Fujifilm X-E5, Fujifilm GFX50R replacement and Fujifilm GFX100 replacement to drop all on May 24, just because they are now discontinued.
The Latest and Greatest