Jason at TCSTV: "The IQ Difference between Fujifilm GFX and Sony A1/Canon R5 Tortured me, I couldn't Unsee it, so I bought into GFX"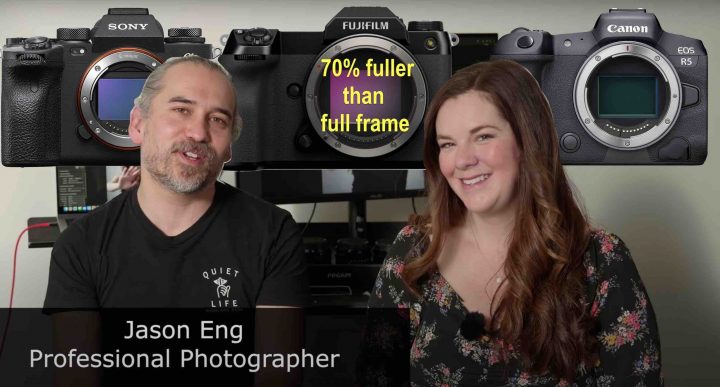 I don't buy into the narrative that wants you to believe you can make professional work only with full frame gear.
And it's not just a "feeling" of mine. It's a hard core fact proven by the irrefutable reality that you can win the Pulitzer prize or the World Press Photo Award with images taken by Fujifilm APS-C cameras.
And I also don't buy that "sensor size is everything" narrative.
Look, I've shot it all: from my loved Micro Four Thirds to APS-C and Medium Format, and yes, even quite some Sony Full Frame as I have easy access to that system thanks to the SonyAlphaRumors guy living not far away from my home.
So I can confidently say: every system has its Pros and Cons and every system, from M43 to MF, can be used for professional use, of course with some cameras being better suited for certain uses than others.
So if somebody tells you that you absolutely need a system with a 70% larger sensor than full frame (the GFX system) to really stand out with the quality of your images, then you better don't trust that person.
And yet, as we said, every system has its Pros and Cons, and the advantage of the GFX system is undeniably that it offers the best image quality you can get for a more than reasonable price.
Then add to this that the Fujifilm GFX100S and GFX50SII have the size of the Canon R5, are even smaller than the Panasonic S1 cameras and cheaper than full frame cameras like the Sony A1, and you start to get a combination of advantages that might make the Fujifilm GFX perfect for your needs.
And it sounds like the combination of advantages the GFX system offers was perfect for Jason Eng, who, in a talk with Evelyn from TCSTV explains his move to the GFX system.
Here is a quick summary:
Jason's assistant Aiden was looking to buy into a new system. He looked at Sony, Nikon and Canon and almost pulled the trigger on the Canon
Jason suggested him to try the GFX50SII which costs about the same what Aiden was about to spend for the Canon
Aiden put his hands on the GFX50S and it had "these magical files"
then they also shot the GFX100 side by side with Sony A1 and Canon R5
even by just comparing the images on the laptop sized screen, they noticed the detail in shadows and the way that the camera handled gradation from highlight to shadow was just… "I could not unsee it, it tortured me until I inevitably bought the system"
he bought the GFX100 with a classic pro body with integrated grip and fully usable autofocus
he often shoots vertical, so having the integrated grip is important
he was and still is a Sony shooter, enjoying a smaller and lighter body
then Fujifilm offered the GFX100S with its smaller and lighter body and it reached a larger target audience than what the GFX100 could do
both options, GFX100 and GFX100S, are great
he often shoots tethered and loves that the film simulation he uses goes right into Capture One
as a long time Sony user for 10 years, color was always hard. The standard was Canon
when Fuji released their APS-C mirrorless cameras he loved the colors, but he could not commit to a smaller sensor than FF
but now they have exceeded his expectations and gone larger than full frame
skin tones are great, reds are beautiful, rich and deep
he uses also legacy glass adapted to the GFX system
Fujifilm offering GFX cameras from $4,000 to $6,000 is a game changer for medium format
color and shadow tonality range, you can't unsee it once you see it side by side
Get Yours (now that it's finally in stock ;)):