Fujifilm X-T4 Third Party Dual Battery Charger Available and More Batteries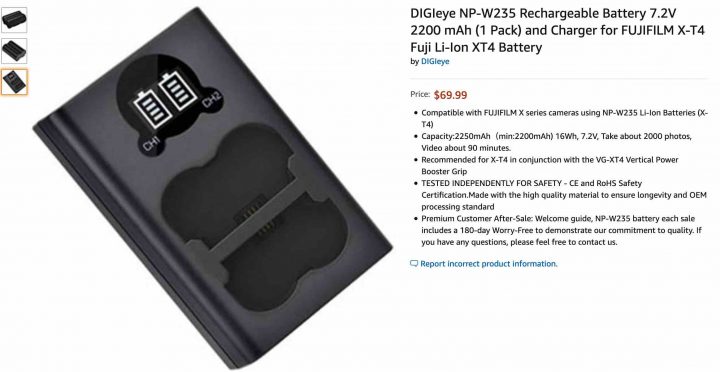 Just yesterday we reported, how the first third party NP-W235 battery can be found in Europe.
Now a FR-reader (thanks) passed me the link to a Chinese third party battery as well as a third party dual batter charger for Fujifilm X-T4.
In USA, you find them available branded as DIGIeye NP-W235 at AmazonUS here. For the same price of a Fujifilm original battery, you'll also get the dual charger on top of it.
We will soon be flooded with third party options, but not all of them are really good.
Independent testings showed, that some Fujifilm third party batteries can be considered almost a fraud, whereas others are close in performance and reliability to the original Fujifilm batteries (such as Wasabi Fujifilm batteries).
For your convenience, down below is a selection of battery related articles we shared in the past here on FujiRumors.
FujiRumors is on Patreon, Facebook, Instagram, RSS-feed, Youtube, Flipboard and Twitter
→ Top X-T Community: Fujifilm X-T facebook group
→ Top X-T Page: Fujifilm X-T Page