2018 FujiRumors Top Sellers: Fujifilm X-T3 Wins, Fujifilm GFX50R Surprises and the Best Selling Lens is NOT a Fujinon!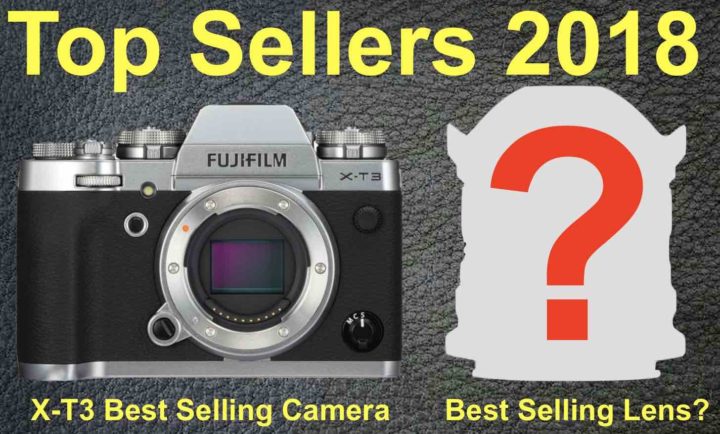 Top Selling Gear 2018

A long and exciting year is ending, and let's see which one was the favorite gear of the FujiRumors community in 2018.
Keep in mind this is the last day, where you can save big on most of the gear listed below. So make sure to check out the massive official Fujifilm X and GFX deals (exp. Dec.29) as well as the soon expiring BHphoto Mega Deal zone (exp. Dec.29).
TOP SELLING PRODUCTS OVERALL

The Anker PowerCore+ 26800 PD and Anker PowerCore Speed 20000 PD are officially recommended by Fujifilm to charge your cameras, while in use or when switched off. All details here.
And after 3 years, the SF Cable plug adapter loses the 1st position, probably because the brand new Fujifilm X-T3 charger, the Fujifilm BC-W126S, has a wall plug adapter built-in.
You can find the new Fujifilm BC-W126S at BHphoto, AmazonUS and Adorama.
TOP SELLING CAMERAS
The 4th position goes to the Fujifilm GFX 50R, which sold far better than the Fujifilm GFX50S, and here on FujiRumors it also sold better than the Fujifilm X-T20.
In real life, the Fujifilm X-T20 obviously sells much better than the Fujifilm GFX50R and also better than the Fujifilm X-H1. But the FujiRumors community seems to be more interested in Fujifilm's high-end products.
TOP SELLING LENS OVERALL
The Laowa 9mm F2.8 Zero-D was by far the best-selling lens here on FujiRumors, beating all Fujinon lenses.
This shows that Fuji X Shooters are not Fujinon-slaves, and we are happy to spend our hard-earned money in third-party glass, as long as the quality is good.
The Laowa 9mm F2.8 Zero-D is now available only at BHphoto with $50 discount (expires December 31) and you can find it for regular price at VenusOptics here.
If only Sigma, Tokina, Tamron & Co would make X mount glass, too. I'm sure they would sell really good amongst us X shooters.
TOP SELLING FUJINON LENSES

In 2018 we had the biggest price drop on the stellar Fujinon XF16mm f/1.4 (save $150 until Dec.29). This helped to boost the sales of this lens. Check the full list of massive Fujifilm X and GFX deals, they all expire today.
When it comes to Fujinon GF lenses, the best seller was the Fujinon GF63mmF2.8.
TOP SELLING THIRD PARTY LENSES

The Rokinon 12mm f/2.0 is consistently a top seller since years. And the FujiRumors community seems to have found in the Mitakon Speedmaster 35mm f/0.95 the perfect lens to manage the impatience, while waiting for the Fujinon XF33mmF1.0 in 2020.
The Mitakon and Rokinon are discounted today only at the BHphoto Mega Deal zone.
The Laowa 9mm F2.8 Zero-D is $50 off until December 31 only at BHphoto.
TOP SELLING SOFTWARE

The fact that Capture One now fully supports Fujifilm, has definitely helped to make this software very popular amongst Fujifilm X and GFX shooters.
Remember that the discount on Capture One 12 will end forever on December 31. Use code "AMBFR" at checkout to save 10% on standalone versions and 5% on subscriptions.
Also Luminar 2018 and Aurora HDR 2018 are available with $10 discount using code "FUJI".
take care,

Fuji X Forum, Facebook, RSS-feed, Twitter and Instagram