TODAY ONLY: Fujifilm X-T3 Recommended USB-C Batteries 50+% Off and Full List of USB Rechargeable FUJIFILM cameras
Fujifilm Recommeded Battery Chargers
As you know, you can charge the Fujifilm X-T3 using a USB-C battery pack.
Well, AmazonUS has now a 1 day deal running on Fujifilm recommended external batteries. You can find them both at 50+% off.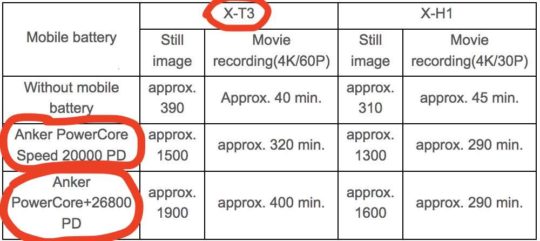 Fujifilm USB Charging
Not only the Fujifilm X-T3 can be charged via USB even while the camera is turned on. This Fujifilm page shows that also the X-T2, X-H1, X-E3, X-T20, X100F and X100T can be USB-charged while ON. And the recommend the Anker PowerCore+ 26800 PD and Anker PowerCore Speed 20000 PD, which today only are 50+% off.