Fujifilm NP-W126S Battery Counterfeits – A Visual Guide to Spotting the Fakes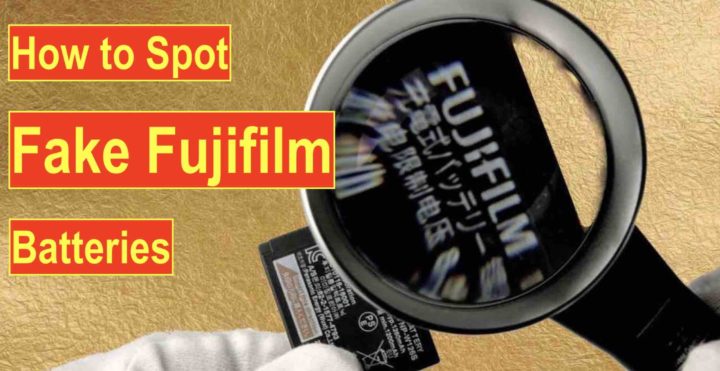 Fujifilm NP-W126S Battery Counterfeits
Let's talk about counterfeits, an age-old problem, as also the recent fake SanDisk SD-cards scandal at AmazonUS shows.
Now, there will always be those, who make a cheap imitations trying to suck a few dollars from your pockets. So we better learn to recognize fakes.
In case of the above mentioned SD-cards, this AmazonUS customer explains here what's the difference between the original and the fake SanDisk SD-card.
In the Fujifilm world, one of the counterfeit products you might encounter are fake Fujifilm NP-W126S batteries.
The Guide
Counterfeit batteries sell like hot cakes on the web, and this is a big problem, since people might buy what they think to be original Fujifilm batteries, and then experience a lower battery life than expected (or even worse issues).
In order to help us to recognize them, Fujifilm X Shooter Dom Varney has published a very comprehensive and detailed visual guide on how to spot counterfeit Fujifilm NP-W126S batteries on his blog domvarney here.
He analyzes, packaging, printing on the battery, electrical contacts, surface topography, battery weight and much more.
In general I'd say: if the price is too good to be true, it probably ain't true.
Thanks Dom for your very useful coverage, and we remind you that Dom already shared a very detailed guide on "Powering the Fuji X-T3". We already shared it on FujiRumors here and direct link here.
With all that said, unless you need the Fujifilm NP-W126″S" version, there are some very efficient third-party batteries for Fujifilm out there. Check our recap:
We have a talk about fake batteries also on our Fujifilm X-H group here.
And of course, always stay tuned on the one and only FujiRumors via Facebook, RSS-feed, Instagram, Youtube and Twitter :)
Examples
Not Original

As note by Dom in his guide, some eBay sellers mark batteries as "NP-W126S battery for Fujifilm X-T2" instead of "FUJIFILM NP-W126S battery for Fujifilm X-T2" and only hidden in the product description you can read "unbranded".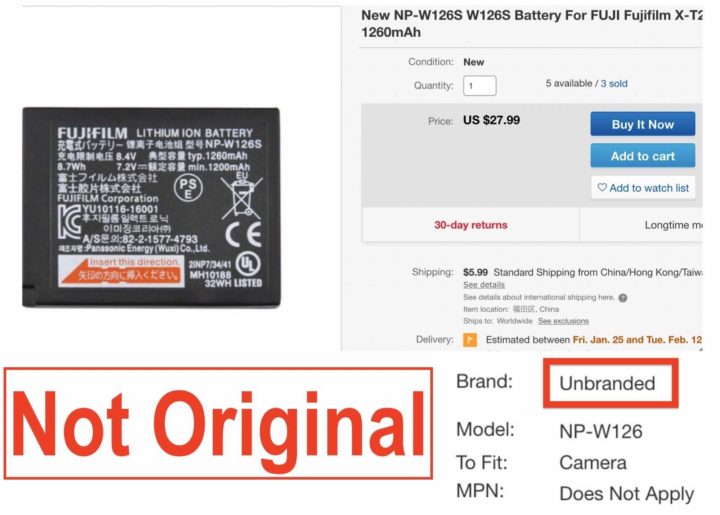 Suspicious
In my quick search, I have found sellers, who, under "brand" write "Fujifilm", but scrolling further down I noticed "Note that this battery is not compatible with the XH-1 Camera". So how can a Fujifilm branded battery not be compatible with the Fujifilm X-H1? One trick they use: call it "genuine" and not "original".