TESTED: Third Party Fuji Batteries? "Inflated capacity values. Some batteries almost Fraud!"… and the Winner is…?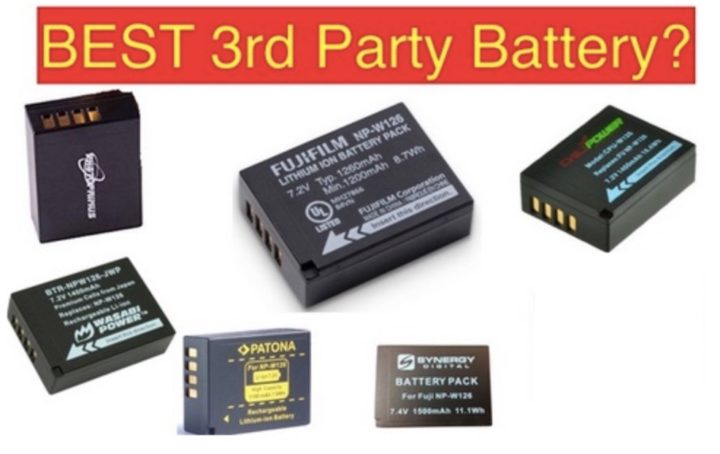 There are many cheap alternatives to the original Fujifilm NP-W126 battery… but which one is the best between the following ones?
[shoplink 39710 ebay]Photoprimus, 1300 mAh[/shoplink] Extreme Wolf, 1250 mAh
Patona, 1100 mAh
Synergy Digital, 1500 mAh
[shoplink 39733 ebay]ChiliPower, 1350 mAh[/shoplink] Original Fujifilm, 1260 mAh
The French site tirages-pro tested them all, and their conclusion is (google translated):
"In general, the announced capacity values ​​are fetched and widely inflated. More than 30% error, some almost fall announced capacities of fraud.
In batteries tested, only Patona branded batteries and original batteries Fuji stand out and respect the advertised capacity.
So, the choice is simple. Either we research the best capacity/price and only Patona tested batteries meet this criterion. Either the capacity is favored without looking at the price and in this case, the Fuji batteries are the right option."
Patona batteries: AmazonUS (for X100 series) / AmazonDE / AmazonUK (for X100 series) / AmazonITA / AmazonFRA / AmazonESP
You might be missing the Wasabi 1400 mAh batteries and the Watson 1120 mAh battery in this list. These batteries are very popular in America, but are not sold in Europe, at least not under this name. I believe (but please correct me if I'm wrong) that Wasabi and Patona are made by the same manufacturer, so the quality of the product should be the same. [UPDATE: You can find Wasabi batteries also in Europe]
Of course there are even more batteries on the market. Feel free to share your experience in the comments. I'm very happy with my Patona's.