Behind the X-Gear: A talk with Fuji X Forum member & official Fujifilm X-photographer Mehrdad
Hi X-folks
Let's take a short break from the usual rumors/news stream and focus on the real heart of the X-system, which is you.
In this "Behind the X-gear" episode, official Fuji X photographer & Fuji X Forum member Mehrdad presents himself to the X-world, talkes about his photography and shares his thoughts about the X-system… plus: he unveils what you have to do to become an official Fuji X Photographer ;) .
If you also want to have the opportunity to be interviewed & featured on FujiRumors, all you have to do is to join our Fuji X Forum Community, share your pics & thoughts there, and you might be the next one :) .
Previous Episodes: Milandro / Trenton /
X-Shooter MEHRDAD
Tell us something about you
Professional Photographer or Amateur or something in between?
Something in between? I am more a professional traveller who is serious in taking pictures. But I work professional as well but not for living.
What is your kind of photography? (Motives, Approach …)
My big love is landscape- and streetphotography. Due to my civil engineer education I am somehow vulnerable to architectural photography as well.
My approach depends on the genre and changes from time to time. Sometime I try at least to plan everything up to the last-minute only to realize that most things turn the other way around and sometime I just let me lead through mood, weather and the people around me.
While taking landscape photos I often just sit there and enjoining the scene by myself without pushing the trigger every second the light or scenery changes. Just soaking it in to me enjoining the beauty mother earth is offering me in that moment.
When shooting street for example I am 100% concentrated, my eyes are searching and my brain is trying to abstract what could happen the next second…all the time the camera ready in my hands near my right eye.
Where can we find more about you on the web (website, Flickr, Facebook, portfolio)
A lot of my work can be found on my website (www.mehrdadabedi.com) The more actual stuff and photostories of mine can be found on my blog (www.qimago.de) I also do like Instagram a lot where I can be found @qimago (instagram.com/qimago/)
What's your favorite image taken with a Fuji?
That is a hard question. Almost every image means a lot to me. I am very bad in remembering things so every photo I take is not only a photograph of a beautiful or interesting scenery, it is a part of my memory my inner is displayed on a photograph. I can not tell you which one is my favorite but which one was the one picture where I knew Fujifilm x was a good choice.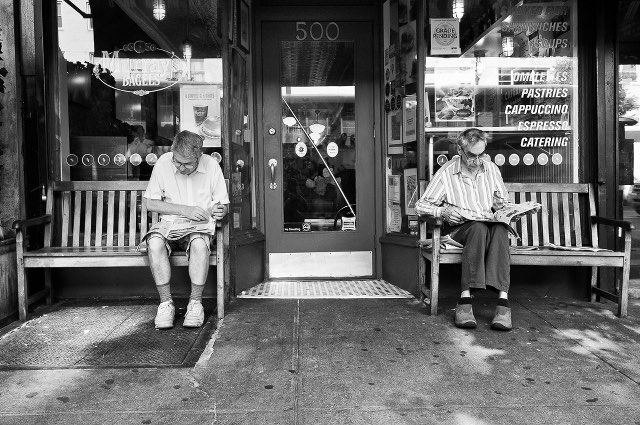 I took this photo in New York with my very first Fujifilm x-camera, actually it was my first Fujifilm camera ever. It was in August 2011 with the X100. I bought it a few weeks before as I was looking for a small and light weighted camera beside my Canon 5D MkII. It is not because it was better quality or something like this. It was just because from this day on I realized that I now will have always a small lightweight camera with me which don't let me down when I need the quality similar to my dslr.
Your Move to Fuji
What's the main reason for you to own a Fuji?
The main reason why I own Fujifilm x-series cameras is their small size, their light weight and their beautiful lenses. And yes: I love the rangefinder style of design of the X100-Series and the X-PRO1.
Is there something you miss from your previous system?
Yes! Fujifilms flash system is kind of not existent. I know how to get my results. But I often don't like it that way and especially my X-PRO1 is driving me crazy here sometimes. My previous system had nice and powerful (as powerful as system flashes could be) flashlights but Fujifilm does only offer more or less better fillflashes. Not a real system. Luckily the Fujifilm x-series are good at low light but sometimes on events I do wish my old Canon flash system back.
What's your favorite lens?
Easy one! the XF14mm, the XF35mm and my X100T. The XF56mm is nice too. But usually comes only on jobs in to play.
What's your favorite camera bag?
That's like asking a women for her favorite handbag. Well, I don't have a favorite camera bag. There are plenty of good option to choose from. I've tried a lot of them: from Lowepro to ThinkTank and finally ended up with a Billingham. I use the Small and the Headley Pro. But as said, that's just "a" bag for me, and not "the" bag.
During travel I take out the insert and put it with all my lenses and bodies into my flightkit. They are perfect for me. Friends of mine ar kidding sometime telling it looks like the Queens Purse but hey: Everyone has a another taste ;)
What's in your bag?
My X100T is always with me. Even when I am going for shopping in the supermarket. And the rest depends on location/destination. Sometimes my X-PRO1 with the XF35mm and the XF14mm and quite often lately my Leica M6 with the Zeiss Biogon 25mm f2.8 zm and/or the Voigtländer Skopar 35mm f2.5 P II
Your Advice to Fuji
Which lens, that is not yet in the roadmap, would you like Fuji to make?
I would love to see a wide-angle tilt and shift lens in Fujinon quality. Yeaah! I know: Dream on! But hey, you asked!
Tell Fujifilm what's the main thing they should still improve in the X-series system via Firmware and/or Hardware
Flash, flash, flash, flash…..ooh, and please don't forget flaaaaaaaaaaaaash!!!! Hardware and firmware wise yes!
Decisive Questions
OVF, EVF or Display?
EVF! I love to see the photo already before pushing the trigger.
OVF I use where I have no choice: On my Leicas!
But, psssst: I still would like the OVF on the X100 and X-PRO Series…it just looks so beautiful ;)
Rangefinder style or DSLR shape?
Rangefinder! Right eye to the viewfinder, left one for the scene = Perfect!
RAW or JPEG?
I shoot both but mostly only use the RAW file. The jpgs are beautiful and for my family photos I almost always use the jpgs.
Curiosity & Customize you X
You most & you least used feature in Fujifilm cameras (like film simulations, build-in RAW converter, Extended DR(100-200-400), advanced filters, panorama, digital split image etc…)
The panorama function is great! I love Fujifilm x-series cameras for this feature. It comes in quite handy to get a very good result in capturing nice panoramas. Sometimes when I shoot jpgs or do know that I will use the jpg over the raw file I use the the DR 400, in special light conditions this can be the difference between gold or rubbish file ;)
Oh, and what I really love is the electronic shutter. It is so nice to photograph at f2.8 on a bright sunshine day without fearing to get a totatlly overexposed file. For the X-PRO1 one I would wish that sometimes. So I am a little envy on the X-T1 holder…..but only on this issue ;)
The least ones? Well the advanced filter I only used once. At the very first time I hold the camera in my hand to see what it is about. I can achieve these results in much better quality via post production. So definitely my least used feature.
Which functions did you place on the FN-buttons of your camera?
The down-pointing arrow buttons to move the af points, the left one for changing the exposure measurement, the right one for ISO, the upper one for enabling or disabling the preview pic. effect. I put Face detection on the FN Button near the trigger of my X100T and the ND-Filter is on the FN button with the trash symbol.
What's Your favorite film simulation
Whenever I need to use my jpgs I prefer Astia on my X-PRO1 and Classic Chrome on the X100T
Your favorite photography quote.
"If you can smell the street by looking at a photo, then you know it's Streetphotography" Bruce Gilden
How do you became an official X-photographer? What should people aspiring to become one, do to become a Fuji embassador?
I am not sure if there is the one way to become a X-photographer. I guess at the end your photo work must convince your local Fujifilm press representative? At least that worked for me. I concentrated on my photography, working on my own style and at the end contacted my local press representative and he must have seen something in my photographs he found worth calling me a Fujifilm X-photographer. At the end it is only a word, a beautiful one ;) but only a word.
Go out and have fun shooting the stuff you like, this is the most important I guess, isn't it?