Fujifilm X-T4 and X-H2 Leaked Details: Would it Be Madness to Merge both Lines? – VOTE POLL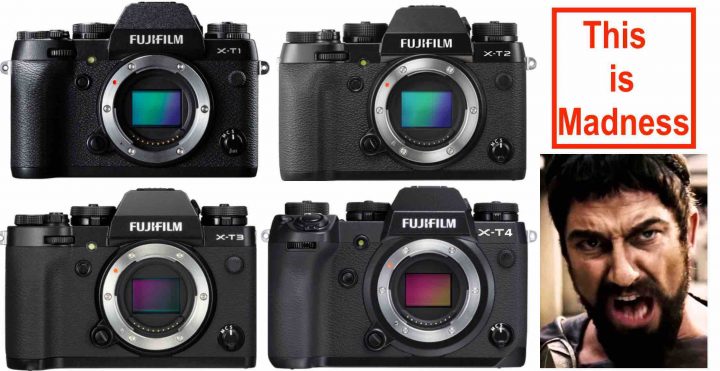 Fujifilm Madness?
Would it be madness?
Take Fujifilm's most successful camera line, the X-T1, X-T2 and X-T3, which remained intact in form and function for 6 years now, and annoy all Fujifilm X-T line lovers, by changing it.
Why do I say this?
Well, because if Fujifilm was to cancel the X-H line (as rumored by our forum member Jason here), this is what would happen, in an attempt to merge both lines into one.
Fujifilm would need an X-T4 with bigger grip (as the leaked specs would suggest), for better handling and operation with long lenses. So the sleek design of the current X-T line would have to make space to a more bulky grip.
And then there are the dials. Fujifilm X-T shooters love dials, so forget about the top LCD screen, but keep the exposure compensation dial.
The result?
A hybid camera, that would make both unhappy, X-T and X-H lovers.
Seen from this perspective, Fujifilm needs both camera lines, as this gives them design freedom.
X-T line – don't change what is so successful
X-H line – more design freedom
This is why Fujifilm managers officially said that the Fujifilm X-H line will continue to evolve. It just needs time, as FujiRumors reported here.
Fujifilm Wisdom?
Or maybe Fujifilm would demonstrate wisdom by canceling one line, as they will never really be able to make them coexist?
Having two lines on the higher end just creates confusion.
Better bet on one horse, and send it out to battle against Sony, Canon and Nikon.

Loading ...
Our Owners Groups
Our Facebook Pages