Fujifilm X-Pro3 Stories #5: Over the Top – New Autofocus System Explained and AF Details with Fujinon XF 50mm f/1.0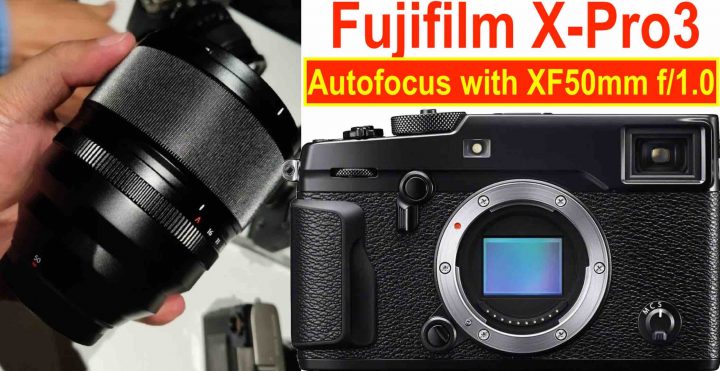 Fujifilm published the fifth episode of its Fujifilm X-Pro3 stories series, called "Over the Top":
JOIN: Fujifilm X Pro User Group
Fujifilm X-Pro3: BHphoto, AmazonUS, Adorama, FocusCamera
#5– Over the Top
the X-Pro3's focus system was developed to maximize the performance of a fourth-generation sensor and processor and that the autofocus system is essential given the nature of the X-Pro3. […]

That's right: what photography requires above all is access to the subject. And once you have access, what then? How will the camera support you? This was the engineer's theme for this camera, and as you will probably have already guessed, it is the phase-detection autofocus system that functions in environments as dark as −6 EV. This is what lets you take the X-Pro3—and do your job—anywhere.

In calculating EV, we define 0 EV as the exposure achieved in 1 second (1″) at ISO 100 with an aperture of F1.

−1 EV = ISO 200, F1, 1″
−2 EV = ISO 400, F1, 1″
−3 EV = ISO 800, F1, 1″

The above is the specification for the X-T3, and is already a perfectly adequate level of performance, allowing snapshots to be taken at night without difficulty. Nevertheless, let's try continuing the sequence:

−4 EV = ISO 1600, F1, 1″
−5 EV = ISO 3200, F1, 1″
So, −6 EV = ISO 6400, F1, 1″

For an X Mount system lens that supports an aperture of F1, you'd need an XF50mmF1, so for practical purposes settings of ISO 1600, F1.4, and 2″ would be needed for −6 EV.

[…] for an X-Pro3 that can handle street photography, we wanted responsive autofocus. This was our motivation for completing the autofocus system in time in for the X-Pro3's release. […]

At low light levels, pixels with color filters—the pixels used for imaging—function in their normal role, while the phase-detection pixels, which lack color filters, operate in a different sequence to maximize exposure time to produce a sufficiently strong signal even under low light […]

Not only that, but this is the level of performance the sensor can achieve just with the current lens lineup. With the XF50mmF1 (in development) I mentioned above, a performance of 1 stop better (−7 EV) becomes possible.
Read the full story at fujifilm-x.
JOIN: Fujifilm X Pro User Group
Fujifilm X-Pro3: BHphoto, AmazonUS, Adorama, FocusCamera