X-LR v.2.0 Released: Plug-in that Automatically Applies Fujifilm Film Simulations in Lightroom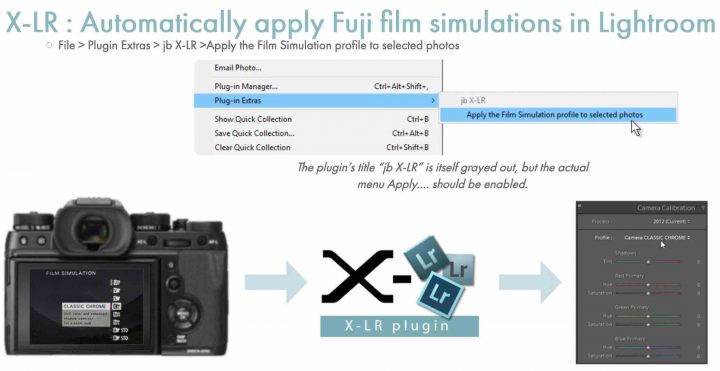 We reported first about X-LR back in March 2017 here.
X-LR is a Lightroom plug-in that reads Fujifilm's Film Simulation from your RAW file and automatically applies corresponding profile when you import your images to Lightroom.
Now X-LR is receiving an update.
You can find a version 2.0 of the X-LR plugin for Lightroom at lightroomsolutions here.
One big issue it fixed is that Adobe quietly introduced new film simulation profiles with a v2 suffix for the X-T3 and now the X-T30. This release addresses that change and supports any new Fuji cameras for which Adobe introduce v2 profiles.
It has other improvements too:
Supports Adobe's v2 profiles for X-T3 and X-T30 cameras
Support for X-H1 Eterna film simulation
Extracts maker notes as custom fields
Can run a preset if the camera detected faces
Read ratings and film simulations from JPEG-only shots
Expert Mode

Incremental Lightroom slider values
Ranges of values – eg FacesDetected tag greater than 1 can apply a portrait preset

Better logging
Follow FujiRumors on Facebook, Flipboard, Youtube, Instagram, RSS-feed and Twitter.
Rumors and Discussions

Stay in the Loop