Fujifilm X-Pro3: An Unforced Error or A Sign of Love for Photographers?… and Why Oscar Wilde Thinks the X-Pro3 is a Smart Move ;)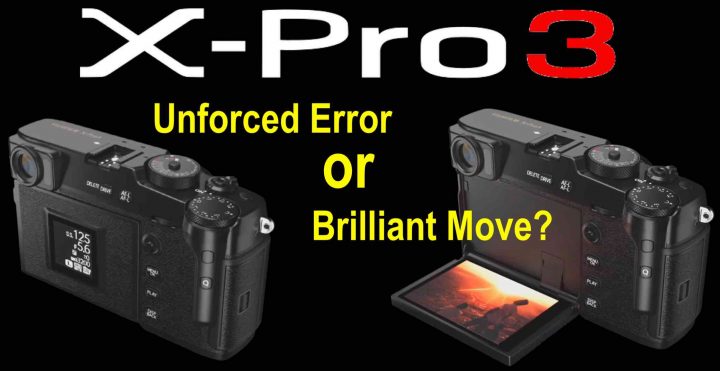 X-Pro3: Unforced Error or Great Intuition?
Oscar Wilde said that "there is only one thing in life worse than being talked about, and that is not being talked about".
Well, given the massive buzz over the last few weeks surrounding the Fujifilm X-Pro3, we can definitely say that Fujifilm avoided the worst: not being talked about!
And believe me, if the X-Pro3 would have just been an X-Pro2 with X-T3 specs, the reaction on the web would have been: "ok… nice… next!"
With Fujifilm's bold and polarizing hidden LCD screen, the Fujifilm X-Pro3 is now on everyone's lips (and Oscar Wilde thinks that's already good).
Alone here on FujiRumors we got thousands (!!!) of comments in just a few days, all discussing the new LCD screen!
But the buzz surrounding the X-Pro3 is big everywhere, not only here on FujiRumors.
And we talked about the tilt screen here:
read here – Look at This: The Fujifilm X-Pro3 Hidden Screen Gets Our Love Again :)
read here – Fujifilm X-Pro3: You Don't Get it! Running After Sony Specs is Wrong. Better Offer a Different Photographic Experience!
read here – Some LOVE the Fujifilm X-Pro3, and Here is Why!
But the discussions continues all over the web. Some love it, others call it a "lost opportunity" and an "unforced error".
You'll find the latest X-Pro3 opinion roundup below.
NEW – Fujifilm X-Pro3: BHphoto, AmazonUS, Adorama, FocusCamera
Follow FujiRumors: Facebook, Instagram, RSS-feed, Youtube, Flipboard and Twitter
X-Pro3 – Opinions Roundup
Fred Ranger (video above) says:
rangefinder Fujifilm cameras inspire him more to go out and shoot

Fujifilm X-Pro3: Fujifilm decided to "innovate" by going backwards.

X-T3 has all the latest and greatest. Practical and packed with features.

X-Pro3 line is about slowing down. Fujifilm wanted to make sure there is a camera for photo shooters out there. You slow down, focus on taking pictures, less chimping. Look at photos later when you go home. Focus on taking pictures. Camera that helps to go back to intentional photography.

Fujifilm is a camera company, not a computer company, like other brands.

He considers to get an X-Pro3, to get rid of thinking of settings. Focus on frame, story, image.

Because Fujifilm is a camera company, they want people to focus on the frame, not the screen and how to use a certain film simulation to help you to tell a certain story.

"True" photographers (not people, that want to snap a picture of a mountain and put it on instagram), people who want to use photography to express themselves, to disconnect and enjoy being out shooting.
Next is Hugh Brownstone. He says:
for those of us, who love the practice of photography
for those of us who want a photographic instrument (not a hybrid)
for those of us who value the process and have known the joy of shooting
for those, the Fujifilm X-Pro3 announcement is reaffirmation of Fujifilm's profound respect for the photographer and the photographer's mindset
it might be the thing that ignites your creative passion to a whole new level
the call the screen hidden, because they don't want you to use it as often as most photographers do
he likes the idea of not being tempted to chimp, and being focused on seeing and capturing the moment
Matt Granger thinks the Fujifilm X-Pro3 is a good move, because:
taking away the screen offers something to some people: those who want to go out and enjoy a certain style of photography as much as they enjoy the output of the photography
the way that it is designed to be shot and enjoyed is exactly how those kind of aspiring film shooters go for it
companies are focused on how their actual potential target market is and what they are looking for, and Fujifilm has pretty much nailed it
It's easy to write this idea off as a gimmick, but I think it could gain traction among more traditional users. It reminds me of my Leica M10-D (which manages without a screen at all) [….]

For those who aren't constantly chimping and normally use a viewfinder, a smooth back — without glass to gather finger smudges — is rather attractive. […]

In terms of retro design, Fuji has out-Leica'd Leica while Leica has gone all techy on us.
Fuji feels they had achieved the power status […] So now they can go unconventional. […]

Let's be honest, this screen is weird and not user friendly. But, guess what, Fuji knows it and says it's been designed like this because they don't want you to use the screen. They want you to use the viewfinder of the camera instead. Sounds familiar? Like, the Leica M10-D that has no screen so you don't get distracted and focus on pure photography? […]

It's the kind of polarizing stuff that will divide photographers: you either like it and think it's genius, or you deeply hate it. And now Fuji feels they can do this, because, well, they are Fuji.

Mind me, I'm grumbling here but I'm enjoying it. Seeing Fuji taking this direction it's actually cool and refreshing.

Objectively, Fuji can do this with the X-Pro3 because they have enough conventional cameras in their current portfolio. So going a bit special with the X-Pro3 is an interesting way forward.
The tsumani among the Fuji community !!! No traditional rear LCD !!!!

The X- Pro 3 series is the natural evolution of that search for freedom and simplicity in photography, and seems that is a lot of people out there afraid of being free… […]

Not using or having a LCD rear screen , is just great . No more time wasted looking to the LCD , instead of looking to what's surround us . No more battery's draining. […]

On my X-Pro2 the view mode is always setting to " viewfinder only " …. why do we need to be distracted by looking at the LCD if we have an electronic viewfinder ? […]

You will be fully concentrate on the " hunt " of the moment , with no distractions or unnecessary stops. […]

The X – Pro3 is the ultimate camera for street photographers and for all that want to take they photography to a different level.Congratulations to FUJIFILM for once more keep the X Revolution alive and fuelling our passion for photography !
Henrysmithscottage is not convinced by the new X-Pro3 LCD design:
The rear LCD arrangement I think is a lost opportunity. I actually like the idea of the compact LCD display new camera settings, and sentimentally, the box label styled indicator of the film simulation. This is apparently Fujifilm's little manipulation to keep us looking through the viewfinder and to minimize "chimping", emphasizing traditional photography.

This new design however, is not that disruptive to my usual workflow as I tend to shoot through the viewfinder. It will likely be a problem for other potential buyers. It seems like an unforced error.
Fujifilm wants to change the way we photograph. Even though I think it's well-intentioned, I have my difficulties with this statement. What do they mean? Don't they trust me to decide for myself how often I look at the display? Do they think I go through the world more concentrated now just because a display is hidden?

I find it somewhat presumptuous to say something like that and I don't want people to sell me this as an "increase in creativity", "pure photography" or whatever. It is not! It's just a hidden display!
peterpoete thinks that:
To be honest, the concept with this display is not my favourite either. I would have much rather left it as it was. Maybe just a better resolution and the touch function added. I can't see any real advantage in the hidden display. But I definitely see some smaller disadvantages regarding the overall operation. […] The folding display as such is great, by the way. If you fold it down, it is way better to use than the usual ones. Just my humble opinion…
diyphotography says:
The X-Pro is a platform that I have had multiple times over the years. When I saw the new approach to the LCD, I was excited. There was a screen that wasn't going to tempt me to pixel peep when walking around, yet gave me the film simulation data that I need to know in a way that was a nice throwback to those of us that shot film.

I applaud it, but worry that I am the minority.
New – Fujifilm X-Pro3: BHphoto, AmazonUS, Adorama, FocusCamera
Follow FujiRumors: Facebook, Instagram, RSS-feed, Youtube, Flipboard and Twitter