Fujifilm X-Pro3 Full Specs Leaked and Comparison with X-Pro2 and X-T3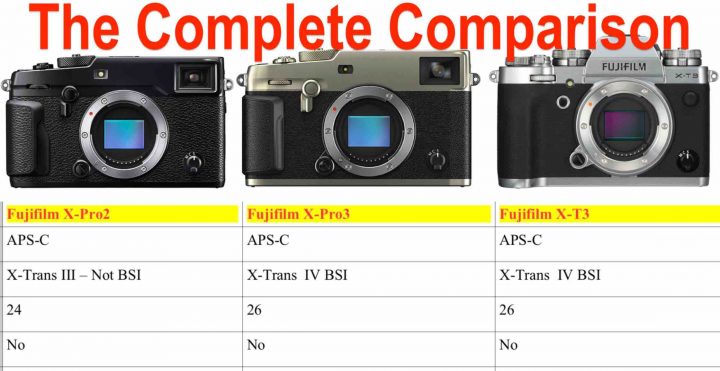 Fujifilm X-Pro3 vs X-Pro2 vs X-T3
After the full leaked press release yesterday, now nokishita leaked the full X-Pro3 specs.
Given that we have basically the full specs, I now decided to extend our initial X-Pro3 vs X-Pro2 comparison, and include the X-T3 as well.
You find it all down below!
KEEP IN MIND that, as FujiRumors exclusively rumored here, the Fujiiflm X-T3 might get a huge firmware update that brings it on par with X-Pro3.
X-Pro3 – Full Specs and Comparisons
Here they are google translated from Japanese:
Effective pixels: Approximately 26.1 million pixels

Image sensor: 23.5mm x 15.6mm (APS-C size) X-Trans CMOS 4 sensor, primary color filter adopted

Battery: Rechargeable battery NP-W126S (lithium ion type)
Number of still images that can be shot: Approx. 370 (EVF in normal mode), 440 (OVF in normal mode)

Body external dimensions: Width 140.5mm x Height 82.8mm x Depth 46.1mm (Thinnest part 34.8mm)
Weight: 497g (including battery and SD memory card) / 447g (main unit only)


Recording media: SD memory card (up to 2GB) / SDHC memory card (up to 32GB) / SDXC memory card (up to 512GB) UHS-I / UHS-II compatible, video speed class V30 compatible

Startup time: about 0.4 seconds

Sensitivity
Standard output sensitivity: AUTO1 / AUTO2 / AUTO3 / ISO160-12800 (1 / 3-step increments)
Extended mode: ISO80 / 100/125/25600/51200

Continuous shooting
Approx. 11 frames / second [Continuous recording number] JPEG: 145 images Reversible compression RAW: 42 images Uncompressed RAW: 36 images
Approximately 8.0 frames / second [Number of continuous recordings] JPEG: 200 sheets Lossless compression RAW: 46 sheets Uncompressed RAW: 39 sheets
5.7 frames / sec [Continuous recording number] JPEG: Endless lossless compression RAW: 62 sheets Uncompressed RAW: 43 sheets
Approx. 5.0 frames / second [Continuous recording number] JPEG: Endless lossless compression RAW: 79 sheets Uncompressed RAW: 46 sheets
Approximately 4.0 frames / second [Number of continuous recordings] JPEG: Endless lossless compression RAW: 134 sheets Uncompressed RAW: 53 sheets
About 3.0 frames / second [Number of continuous recordings] JPEG: Endless lossless compression RAW: Endless Uncompressed RAW: 71 images
Approx. 30 frames / second (1.25 X crop when electronic shutter is set) [Continuous recording number] JPEG: 60 sheets Lossless compression RAW: 35 sheets Uncompressed RAW: 33 sheets
Approx. 20 frames / second (1.25 X crop when electronic shutter is set) [Continuous recording number] JPEG: 114 sheets Lossless compression RAW: 37 sheets Uncompressed RAW: 34 sheets
Approx. 20 frames / second (when electronic shutter is set) [Continuous recording number] JPEG: 79 sheets Lossless compression RAW: 36 sheets Uncompressed RAW: 34 sheets
Approx. 10 frames / second (1.25 X crop when electronic shutter is set) [Continuous recording number] JPEG: 500 sheets Lossless compression RAW: 48 sheets Uncompressed RAW: 39 sheets
Approximately 10 frames / second (when electronic shutter is set) [Continuous recording number] JPEG: 164 lossless compression RAW: 44 sheets Uncompressed RAW: 37 sheets

Video
[DCI4K (4096 × 2160)] 29.97p / 25p / 24p / 23.98p 200Mbps / 100Mbps up to approx. 15 minutes
[4K (3840 x 2160)] 29.97p / 25p / 24p / 23.98p 200Mbps / 100Mbps up to approx. 15 minutes
[Full HD (2048 x 1080)] 59.94p / 50p / 29.97p / 25p / 24p / 23.98p 200Mbps / 100Mbps / 50Mbps up to approx. 59 minutes
[Full HD (1920 × 1080)] 59.94p / 50p / 29.97p / 25p / 24p / 23.98p 200Mbps / 100Mbps / 50Mbps Continuous up to approx. 59 minutes
[Full HD (1920 × 1080)] High-speed video 120p / 100p 200Mbps Continuous up to approx. 6 minutes