Fujifilm X-Pro3: You Don't Get it – Running After Sony Specs is Wrong. It's Smarter to Offer a Different Photographic Experience!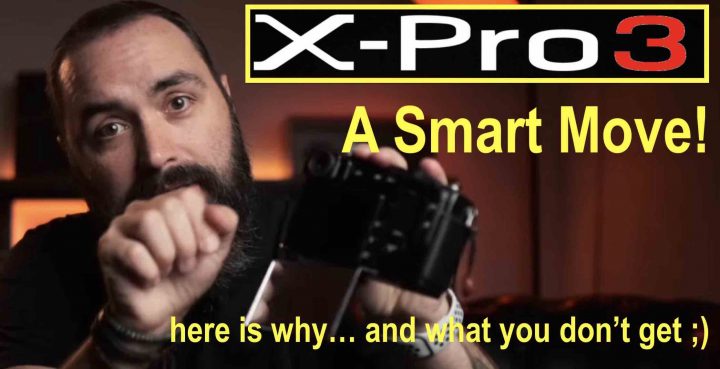 Fujifilm X-Pro3
Thomas is a passionate photographer as well as product manager, and he has his own little space on youtube.
In his latest video, he shares his well pondered opinions about the Fujifilm X-Pro3, that I believe could be interesting to discuss also here on FujiRumors.
As many of us, when he saw the X-Pro3 screen he had a "what the f***" moment. But the more he thinks about it, the more it makes sense to him. And those, who still sh*tstorm on the X-Pro3, don't get it that it's actually a very smart move (in his opinion).
In fact, he now even considers to replace his X-T2 with an X-Pro3 instead of an X-T3.
Why?
Well, the video is in German, but you are lucky I am a polyglot managing 4 languages, so I am going to translate it for you down below.
Ready?
Then check it out down below.
What You Don't Get!

Loading ...
_ _ _
Before we start, I'd like to remember you what Fujifilm managers officially said:
Sony has a big advantage, they make their own sensors. That is a very big advantage for them
This allows Sony to be always a generation ahead of the competition.
The Fujifilm manager also said here, that Fujifilm does not want to be involved in a "pointless technical race".
With that in mind, let's start to look at Thomas' Fujifilm X-Pro3 thoughts.
Fujifilm does not try to catch up with other manufactures in terms of specs
Fujifilm tries to make cameras, that are different
Fujifilm listens to those, who use the cameras, and not to some loud youtubers
Fujifilm does not want to build the technical best cameras. They can't catch up with Sony
Trying to catch up with Sony, would be the wrong thing to do
Running after the market leader, would just make them run constantly 1 step behind the leader
what's important is to create products, that differentiate themselves from the competition
the X-Pro3 is such a product
many photographers pick a camera not based on what they really need, but based on what they don't want to renounce, meaning they look at the specs, look which camera has the most features even if maybe you'll never use those features
in this regard, Sony is the perfect manufacturer
Fujifilm knows this, hence they don't try to develop cameras that on paper are better than Sony, but cameras that deliver another photographic experience
Fujifilm consequently followed this principle with the Fujifilm X-Pro3
During X-Pro3 development, they did not think at what they can add, but at what they can remove
this makes Fujifilm more similar to Leica
Fujifilm made a hidden LCD screen, and people on the internet freak out
people do not understand what Fujifilm wants to achieve
with the X-Pro3, Fujifilm wants to bring simplicity and purity into photography
Fujifilm now also clearly separates X-T from X-Pro series
the X-T series is a professional all-rounder tool. You can do everything with it: video, sports, etc.
X-Pro3 is for purists, who want to experience photography
the little LCD on the screen is NOT the screen of X-H1, since it's in colors. It can show camera information like X-H1 screen, but Fujifilm developed the idea further, and now you can also display your film simulation
initially he was skeptical about the hidden LCD screen, but the more he thinks about it, the cooler he thinks the new screen is
he can't wait to finally handle the camera
he wanted to replace his X-T2 with X-T3, but the more he thinks about the X-Pro3, the more he thinks it's the better camera for him to replace X-T2
the Fujifilm X-Pro3 might not be technically on par with Fujifilm X-T3, but the photographic experience will be better with X-Pro3
The Fujifilm X-Pro3 will be announced on October 23 at 1AM New York Time. LIVE BLOGGING on FujiRumors.