Fuji Managers dpr Interview: Sony's advantage/disadvantage over Fujifilm :: APS-C 24MP is best :: Future Lenses & more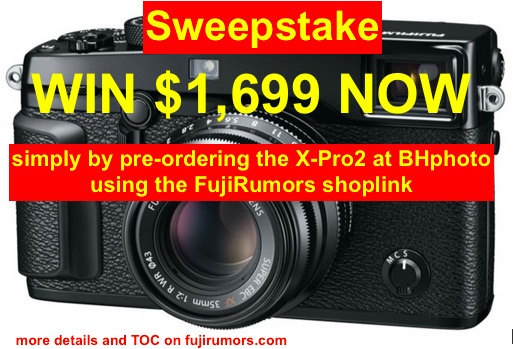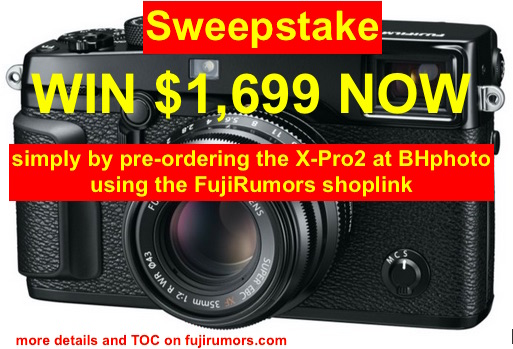 Fujifilm X-Pro2: USA: BHphoto – Win $1,699 by pre-ordering at BH via FR* / AmazonUS / Adorama / EUROPE: AmazonDE / AmazonUK / WexUK / PCHstore / AmazonITA / AmazonFR / AmazonESP /   AUSTRALIA: CameraPro
* pre-order the X-Pro2 (body or kit) at BHphoto using the FujiRumors shoplink and you'll already have entered the sweepstakes. The lucky winner will get an Amex gift card pre-valued at $1,699.00. By joining this Sweepstakes, you agree with the Full Terms and Conditions. More detailed description of the Giveaway here.
_ _ _
Interesting dpreview interview with Fuji Managers Mr. Toru Takahashi and Toshihisa Iida. Here a few excerpts:
Mr. Takahashi – you mentioned in your presentation at the press conference that Fujifilm is not interested in becoming involved in a 'pointless technical race'. What did you mean by that?
We think that the most important thing is overall image quality. So for example just increasing [pixel count] won't make a better picture. We [also] need better high ISO image quality. It's always a tradeoff, and to find the optimal point is very difficult. That's the reason we why we picked the APS-C image format. […] If we increased to 28 or 30MP there would be more disadvantages than advantages
What are the essential ingredients of the Fujifilm X-series?
Product design is a key point of differentiation. We do this by ourselves. So sensor design, although we don't make the sensors by ourselves. We design our processors, but of course we do not manufacturer them so we require other companies. […] So [the sensor in the X-Pro2] is a good example. This is a 24MP sensor that can produce something like 30-36MP equivalent resolution. Design is our strength I think. And lenses. We have very strong lens design capabilities. Lenses, we have our own technologies, we make lenses by ourselves.
What kind of company will Fujifilm's camera division be in five years' time?
We'd like to be at least in the top three companies in the camera business by market share.
And the other company [along with Canon and Nikon] of course is Sony…
Sony has a big advantage, they make their own sensors. That is a very big advantage for them, but they are weak in lenses.
And they are weakened by having so many formats. APS-C, full-frame, [across both] DSLR and mirrorless. So their lens division must be under a lot of pressure!
Where are the remaining gaps in the X-series lens lineup?
Customers are requesting more compact lenses. Our 35mm F2 is one example. So we may need to supplement this lens [with others of this kind]. And also photographers are challenging us to make more telephoto primes. And astrophotographers want fisheyes, and also [we have requests] for tilting lenses. So although the volume [of those products] might not be as big, photographers are asking us.
Fujinon XF100-400: USA: BHphoto / AmazonUS / Adorama / EUROPE: AmazonDE / AmazonUK / AmazonITA / AmazonFR / AmazonESP / PCHstore / WexUK / AUSTRALIA: CameraPro
Fujifilm X70: USA: BHphoto / AmazonUS / Adorama / EUROPE: AmazonDE / AmazonUK / AmazonITA / AmazonFR / AmazonESP / PCHstore / WexUK / AUSTRALIA: CameraPro
Fujifilm X-E2s: USA: BHphoto / AmazonUS / Adorama / EUROPE: AmazonDE / AmazonUK / AmazonITA / AmazonFR / AmazonESP / PCHstore / WexUK / AUSTRALIA: CameraPro
X-shooter Feedback about Rico Pfirstinger's Fujifilm X-Pro2 Fist Look