Fujifilm X-Pro2 Launch Party Hangover: 10 News you might have missed this week! – POLL: HVF, Useful or Not? + More Reviews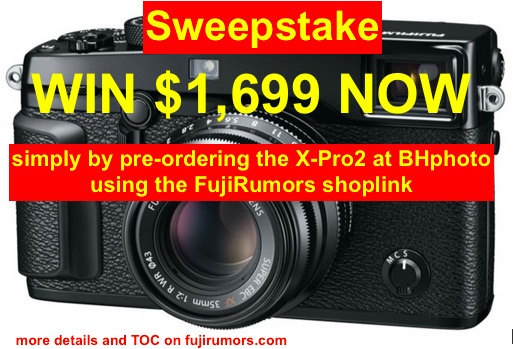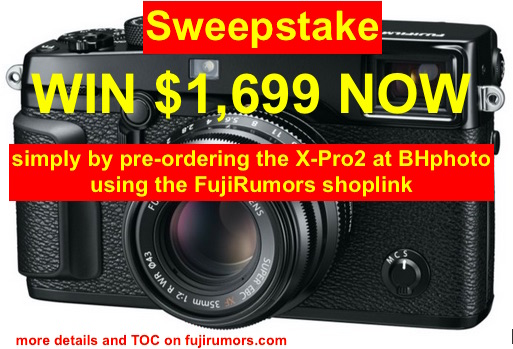 Fujifilm X-Pro2: USA: BHphoto – Win $1,699 by pre-ordering at BH via FR* / AmazonUS / Adorama / EUROPE: AmazonDE / AmazonUK / WexUK / PCHstore / AmazonITA / AmazonFR / AmazonESP /   AUSTRALIA: CameraPro
* pre-order the X-Pro2 (body or kit) at BHphoto using the FujiRumors shoplink and you'll already have entered the sweepstakes. The lucky winner will get an Amex gift card pre-valued at $1,699.00. By joining this Sweepstakes, you agree with the Full Terms and Conditions. More detailed description of the Giveaway here.
_ _ _
I never had such a busy time on Fujirumors. Several New Products, new Firmware announcements, an infinite Number of Reviews.
In this huge flow of rumors and information, it's easy to miss something. In fact, I've receive a lot of emails from readers, informing me for example that the X-E2 will get a new Firmware on the 4th of February… an information that I did share on the Fujirumors blog right when the Firmware was announced, but got lost somewhere in the big news stream.
So I thought I should invest a bit of my time to make a summary of 10 news you might have missed
Rico Pfirstinger published a brilliant Fuji X-Pro2 First Look
BHphoto & other stores initially displayed availability for X-Pro2 at the beginning of February. It then changed to late February (Read more here)
A Fuji Manager said that Fuji is testing Medium Format sensors. There are no plans for now to really make it. Also talk about the X-Pro2. Read more here.
the X-E2 will get a new Firmware update on February 4th. It will include the new AF-system, the Electronic Shutter, Interlocking of Metering and Focus areas and a lot more (see here). It will basically become an X-T10 in rangefinder style.
the X-E2s will have an Auto button instead of FN2 button (X-E2) for Scene Recognition mode.
the X70 price dropped from $799 to $699 just 2 days after the announcement (Read more here)
there is an WCL-X70 (wide angle converter) for the X70. There is no information (or rumor) about a Teleconverter. I guess we will only see one, if the X70 sells well.
Fujifilm launched the new version Camera Remote that supports all of Fuji wireless-equipped digital cameras (see here).
Fuji announced a New Flash, the EF-X500. It will be available in May (read more here).
I finally slept for the first time after several weeks for more than 4 hours!!! :-)
And just in case you missed the live Streaming for the 5th Anniversay, here is the youtube link to it.
Fujifilm X-Pro2
ACROS, all images between ISO 25600 & 12800 – Rico Pfirstinger Flickr
Shooting with the fujifilm x-Pro2 at davidgaberle / Claire Rammelkamp at Eastington Park ~ Fuji X-Pro2 by Damien Lovegrove at prophotonut / Field Test at the Spanish site dslrmagazine (translation) / X-Pro2 Facebook User Group / Field Test at French site focus-numerique (translation) – with RAW file to download / Fujifilm ACROS samples at dslrmagazine (translation) / First Impressions at ephotozine / NSFW: Shooting on location with the XF90mm F2 at ideasandimages
One of the questions in this DPReview youtube video is: is the Hybrid Viewfinder Useful or Not? Two reviewers, two different answers. So let's see what FujiRumors readers think about it:

Loading ...
_ _ _
Making of the X-Pro2 & Co at quesabesde youtube
Fujinon XF100-400: USA: BHphoto / AmazonUS / Adorama / EUROPE: AmazonDE / AmazonUK / AmazonITA / AmazonFR / AmazonESP / PCHstore / WexUK / AUSTRALIA: CameraPro
Fujifilm X70: USA: BHphoto / AmazonUS / Adorama / EUROPE: AmazonDE / AmazonUK / AmazonITA / AmazonFR / AmazonESP / PCHstore / WexUK / AUSTRALIA: CameraPro
Fujifilm X-E2s: USA: BHphoto / AmazonUS / Adorama / EUROPE: AmazonDE / AmazonUK / AmazonITA / AmazonFR / AmazonESP / PCHstore / WexUK / AUSTRALIA: CameraPro