Fujifilm X-H2S to cost $2,499: Price Compared to Sony A9II, Sony A1, Canon R3, Nikon Z9, OM-1 Stacked Sensor Cameras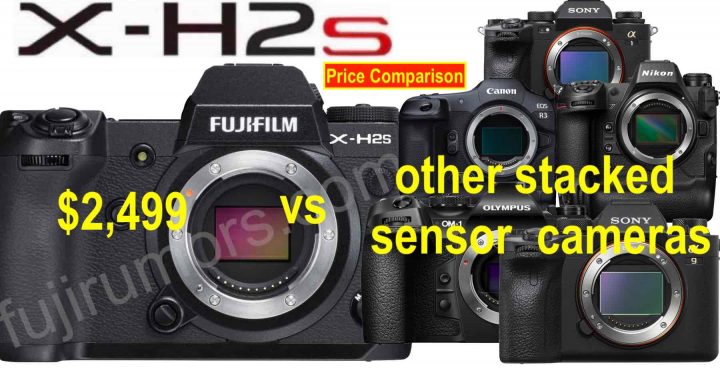 Here is a mandatory follow up article to my previous rumor, which indicated the Fujifilm X-H2s would cost $2,499 US Dollar.
I ended up my short article saying "you gotta love that affordable APS-C system". A sentence that I guess was misunderstood and needs to be put into context.
By no means $2,499 is little money per se.
And it is also a lot of money to put into a camera for sure, given the fact that you can buy for example a brand new Fujifilm X-T3 for just $999 these days.
But as everything in life, you need to put things into a context.
And the context here is that the Fujifilm X-H2S is, in my opinion, very affordable if we compare it to other stacked sensor cameras out there.
So let's do just that.
I know some will say you can't compare cameras simply by price. And that's true.
In fact, there are cameras listed above that have completely removed the mechanical shutter to save money (Nikon Z9), other that feature a M43 sensor (OM System OM 1) others have more megapixel (Sony A1), others have an integrated grip (Canon EOS R3) and what not.
However, what unites them all, is that they are designed for the ultimate speed by using a stacked sensor, which is the most expensive sensor you can buy these days for a digital camera (while waiting for the global shutter to be ready).
So the main target of those cameras is more or less the same: photographers who need the fastest camera possible!
And if your main need is speed, you will want a stacked sensor camera. And the stacked Fujifilm X-H2s will cost you about half the money of the next best stacked full frame camera. A massive price difference of $2,000!
Only the OM-1 is more affordable, but only by $300 compared to the X-H2S. And as an Olympus lover myself, it does hurt me to say that with such a small price difference I guess for most the better pick is the X-H2S.
And remember, the Fujifilm X-H2S will have also a faster readout than any other full frame stacked sensor camera out there, as the 40 fps bursts seems to indicate. This could potentially also benefit blackout-less EVF frame rates and much more.
Let's see… we will know a whole lot more on May 31 at 9AM EST.
I guess on one thing we can agree: on May 31, the stacked sensor camera market is going to get a lot more competitive, which is good for all of us customers, also those who do not shoot Fujifilm.
What else will come on May 31?
Well, what's listed below is what will come for sure. If there is anything more, I'll let you know.